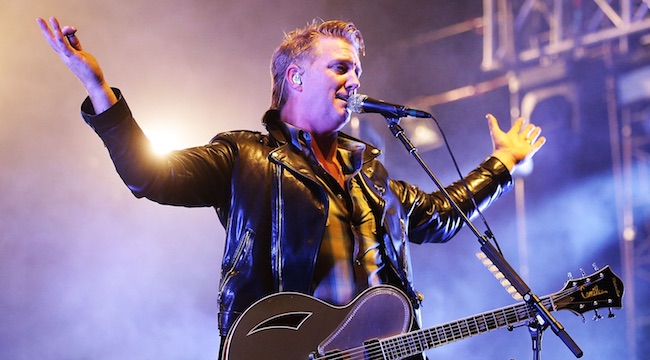 We are only two weeks away from getting the brand new album Villains from the seminal desert rock group Queens Of The Stone Age, and today, frontman Josh Hommed swung by Beats 1 on Apple Music to chop it up with Zane Lowe and debut their new single, "The Evil Has Landed."
[protected-iframe id="60664b8999c0ea52573314e7bd62db20-60970621-76566046″ info="https://embed.itunes.apple.com/us/embedded-player/idsa.f0ceeab0-7de3-11e7-9044-bdc7e15da6eb" width="100%" height="104″ frameborder="0″ scrolling="no" allowfullscreen=""]
"The Evil Has Landed" is propelled by a boot-stomping backbeat, swanky, swirling rhythms, and a vintage rock guitar solo dashed off in the middle. It might just be the most solid entry we've gotten yet from the band's upcoming release, that was produced by the pop music stalwart and Amy Winehouse collaborator Mark Ronson.
While airing out the song, Homme talked with Lowe about how the Palm Desert region of California where he grew up continues to influence both his sound and his outlook on the world. "There's a bit of my early influence and it's just got a desert style," Homme said of the new track. "I always go back to the desert all the time. When I moved here [Los Angeles] I moved to the Valley because I was used to having a yard, and I thought, 'Well, if it goes down here, at least I know all of the back roads to get to home. So I moved here basically as a doomsday prepper."
You can listen "The Evil Has Landed," as well as a portion of their Homme's chat in the Apple Music player above.