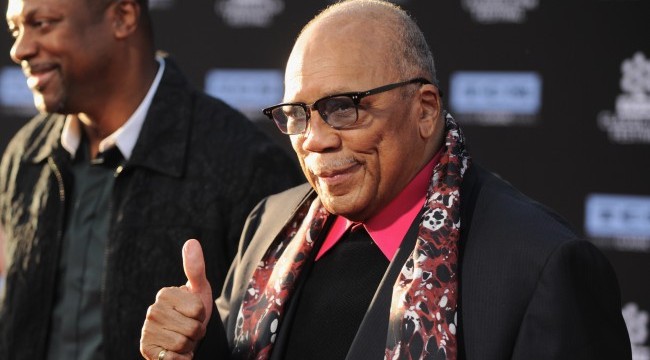 On Wednesday, a Los Angeles Superior Court jury awarded legendary producer Quincy Jones $9.4 million in his lawsuit against the Michael Jackson estate over what he claimed was unpaid royalties for songs he produced that were used in the 2009's posthumously released documentary, This Is It, as well as two Cirque Du Soleil shows centered around the King Of Pop's music.
Quincy Jones and Michael Jackson collaborated on Off The Wall, Thriller, and Bad, and those three albums are widely considered to be some of the very best pop music ever recorded.
At the heart of Jones's argument were two old contracts, which stipulated that Jones be paid a royalty for any usage of songs he produced in a "videoshows," a term which he argued applied to the aforementioned productions. Jones had originally asked for $10 million, but later upped that figure to $30 million in damages. The Jackson estate refuted this assertion, claiming that the term only applied to music videos. As a result, they felt that the only thing Jones was entitled to was licensing fees equal to $392,000.
The legal dispute was the textbook definition of acrimonious. At one point during the case, Howard Weitzman, lawyer for the Jackson estate, accused Quincy Jones of suing Michael Jackson. The comment didn't sit well with Jones.
"I'm not suing Michael," he retorted, according to the Associated Press. "I'm suing ya'll."
It's easy to understand Jones's anger. After all, the comment indirectly calls into question Jones's friendship with the deceased singer, unjustly undermining the various kind words the producer has said of Michael Jackson.
Despite the ruling, this case doesn't appear to be over. The Jackson estate has said they plan to appeal.