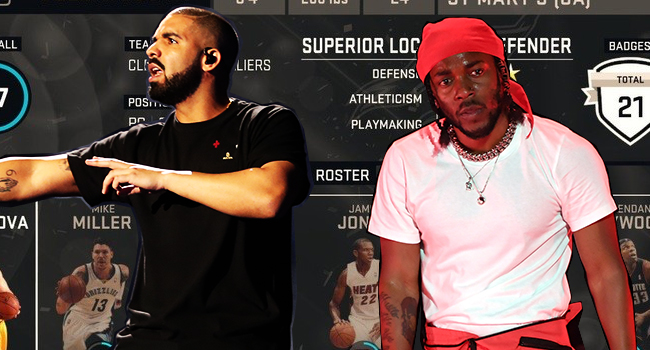 NBA2K ratings are here, and with them, your chance to argue about who is underrated, overrated, overpowered, or just plain wrong. It's a joyous occasion for fans of basketball during the offseason doldrums, and gives fans — and players — plenty to talk about and get hyped for come the next release of basketball's biggest video game franchise.
One reason 2K rankings are so much fun to debate is, unlike PER or another stat-based ranking system, there are no published formulas that determine a player's ranking. Furthermore, there's no "league average" to compare them against; it's a simple scale, from 1-99, with players at 99 being the greatest to ever play (i.e. Michael Jordan's inflated stats whenever he's included in an iteration of 2K).
Every player hates their own score, but NBA players wouldn't be in the NBA if they didn't feel they were the best of the best. Some of the scores are even assigned in response to internet memes that blow up — see Hoodie Melo's tongue-in-cheek rating of 98.
Another fun thing to debate is rappers. Rap fans love to rank their favorites, but an interesting thing I've noticed is that there isn't a simple scale for rappers, because there is no rapper video game. But what if there was? And what if 2K the game handed out rankings to determine where each rapper fell on a ranking of "best ever" or "hottest out?" Who would be underrated/overrated? Whose stats would determine that, by-and-large, they were the best in the game, and whose would prompt an outcry of the whole system being an arbitrary "crock of sh*t?" Well, I decided to do just that.
Much like @Ronnie2K, 2K Sports' digital marketing director, I won't be revealing the exact formula; it could be a complicated array of statistics and whiteboards, or it could be my completely arbitrary reading of the rap landscape. It doesn't matter how we got to these numbers, the fun is in the debate. The only rule is that a rapper has to have released an album this year. Let's get into it, shall we?
Kendrick Lamar — 98
We've already discussed how Kendrick is as close to perfect as a rapper can get. No explanation necessary here. DAMN. steamrolled its competition and Kendrick Lamar is dominating. He's the player anyone would want on their team.
Drake — 96
As overlooked as More Life has continued to be, that's more of a function of Drake not really promoting it. It remains one of the stronger rap releases of the year, and Drake shows he hasn't lost his touch and really only has one real rival when it comes to rap — even if that rivalry is mostly in all of our heads.
Tyler The Creator — 94
Tyler's growth on his latest release, Flower Boy, is undeniable. He remains a skilled technician of rhyme and wordplay, but stripped of his old obnoxious insistence on being inflammatory, his skills really shine in the short bursts of rap contained within his most introspective and melodic productions to date.
2 Chainz — 92
Pretty Girls Like Trap Music was the rap equivalent of averaging a double-double for a month. Chainz may not have had a supernova performance, but each and every single from the album was solid — and nearly every song on it is a single, so that's saying a lot.
Joey Badass — 90
https://www.instagram.com/p/BYqa2ebBrd4/?hl=en&taken-by=joeybadass
My personal sleeper pick for rap album of the year, All-Amerikkkan Badass finds Joey gliding over beats that perfectly balance boom-bap and live instrumentation, with battle rap, conscious rap, and spacious, vibey party rap all comfortably co-existing on the same project. Joey is your "best two-way player" archetype, having mastered old-school, intricate, "lyrical" rap styles, and learning to balance them with the more relaxed styles that define streaming-era hip-hop.
Logic — 89
Say what you will about the poor execution of the concept on his May album, Everybody, or the overall corniness of his content, but Logic's VMA performance of "1-800-273-8255" increased calls to the National Suicide Prevention Lifeline by 50 percent, according to CNN. That's an MVP-caliber performance if ever there was one.
Vince Staples — 88
https://www.instagram.com/p/BXqPmJmA4TA/?hl=en&taken-by=vincestaples
Vince Staples puts on a master class in "keeping it real" on Big Fish Theory, establishing himself as one of the top rappers currently in the game. Staples displayed versatility, comfort in his flow, and singularness of direction with Big Fish Vince is like the do-it-all hustle player that somehow scores 18 points a game without anyone realizing he ever set foot on the floor.
Wale — 87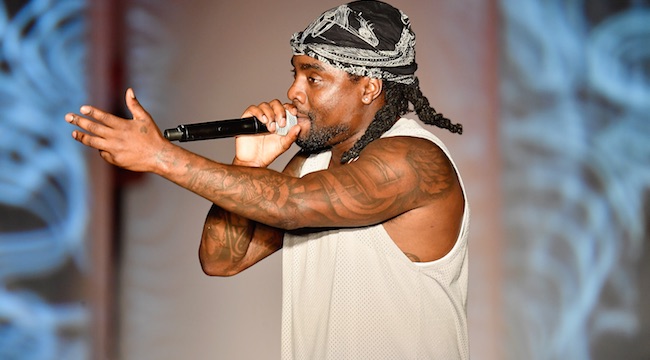 Wale's experienced some ups and downs in his career, but it finally feels like he's settling into a groove. He's not quite on the downslide of his time in rap, but he's hit his peak. He still makes solid contributions, and that's what counts. He's still rapping at a relatively high level, but he needs the right situation — label, production, external factors — to really flourish.
Future — 85
https://www.instagram.com/p/BYNNo6PHtIn/?hl=en&taken-by=future
Future is a volume shooter, the guy you let take a bunch of shots because eventually he'll find his range and start hitting, but you'll have to put up with a number of shots that make you grab the sides of your head while yelling, "Oh, come on!" Future and HNDRXX were both decent, but you get the impression you may need Future t oride the pine for a while, until he's really needed.
Gucci Mane — 85
https://www.instagram.com/p/BX79MqGjuxC/?hl=en&taken-by=laflare1017
Gucci is that vet that every team needs to guide its younger guys and give spot minutes of really high level production and IQ. So much of Gucci's influence is evident in the styles of rappers like Migos, 21 Savage, Young Thug, Dae Dae, Peeway Longway, and more, but Gucci himself is turning in his best work via guest appearances on other artists' material, where he can really shine.