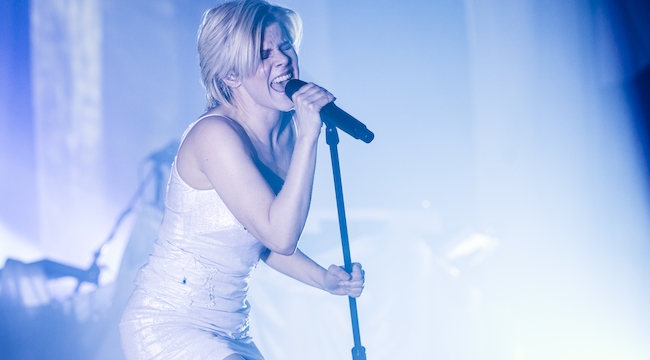 It's hard to imagine Robyn having a more spectacular return than her two-night fête this weekend at the Red Bull Music Festival in LA. While it's notoriously difficult for female pop stars to maintain cultural relevance and critical acclaim as they age, the 39-year-old Swedish pop icon staged a stunning comeback last year after an eight-year hiatus with Honey, one of her most comprehensive and elegiac works to date. The record debuted at No. 1 on Billboard's Top Dance/Electronic Albums when it came out last November, and four songs began making rotation on that subset's singles chart as well. Overall, the album hit No. 40 on the main chart in the US, along with a No. 1 spot on the charts in her native Sweden, a No. 2 debut in Norway, and appearances on countless year-end lists recapping important releases in 2018.
As detailed in the Red Bull Music Festival lecture she gave in early 2018, the death of her friend and mentor Christian Falk in 2014 deeply impacted the singer/songwriter, and she spent years in intensive therapy dealing with her grief over that loss, among other things. Finally returning to music after thoughtfully and carefully processing her emotions, pain, and healing, Honey addresses that trifecta with grace and poise, while ruminating on the same themes of romance, disappointment, desire, and trust that have permeated the bulk of her eight-album discography; "Missing U" is as much a meditation on death as it is a reflection on the dissolution of a relationship in other ways. The permeability of Honey allows for multiple interpretations — one of the album's greatest strengths — and this characteristic of her music is also part of what elevates her live show.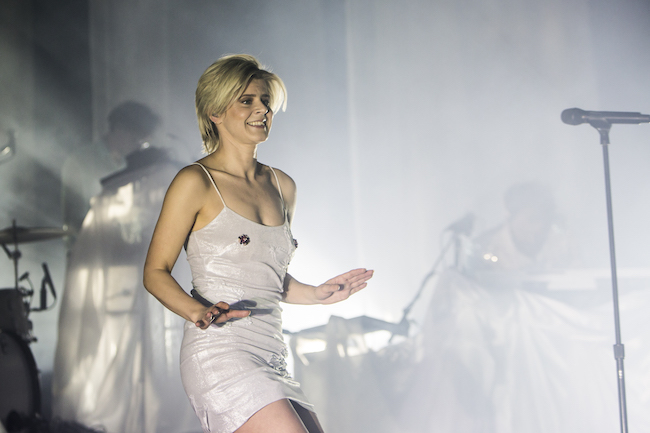 Still, despite the impact Honey has had on Robyn's career, and will continue to have as she embarks on a massive tour supporting it, the moment the crowd — and perhaps, even Robyn herself — were waiting for last Saturday night was impossible to mistake. At the latter of two shows (and an intensive afterparty, in collaboration with LA's A Club Called Rhonda night) an expansive, monochrome stage set up gave the set a timeless, icy feel, and Honey favorites like "Send To Robyn Immediately," the title track, "Beach2k20," and "Ever Again" all came early on, establishing that this tour would indeed focus on her newer material.
Rocking an elegant, white sheath dress that afforded her plenty of movement, it was the jewel nipples affixed on the outside of the dress that tapped into her brilliantly subversive, always slightly left of field whimsy, along with the voguing backup dancer, who she played off all night. Singing out to a crowd at the Palladium that doubled as a shifting, shimmering mecca of queer misfits and otherworldly queens, Robyn only addressed us briefly, running through the songs with few conversation breaks. Instead, she let the tracks segue into one another wordlessly, as the dancefloor opened up, blossoming into a haven for people of all stripes and sizes to let loose like never before.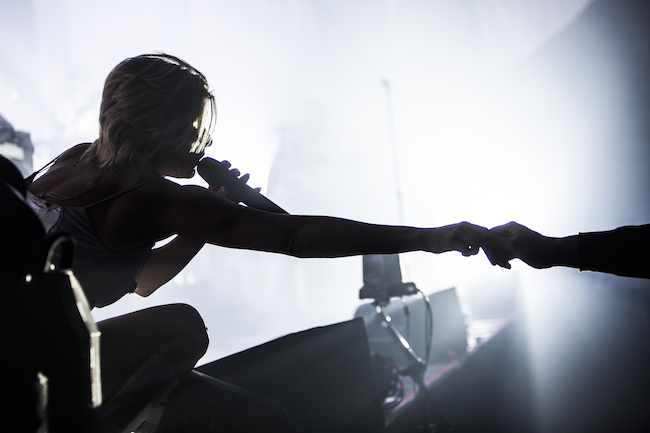 "Because It's In The Music" and "Between The Lines" came mid-set, along with back catalogue favorites like the super early, unexpected inclusion of "Hang With Me," and a nod to Falk with the La Bagatelle Magique collab "Love Is Free," weaving the many eras and iterations of Robyn into one cohesive movement. For those who were worried about which night they attended, the setlist for the second night quickly established she was playing twin sets for both nights — though Saturday did have the added bonus of spotting another European pop star, Adele, watching from a private vantage point, just as giddy as any fan twerking and twisting on the GA floor.
But the impossible to mistake peak of the show came toward the end, when the jittery intro for "Dancing On My Own" overtook the Palladium, and a massive cry of delight from the crowd threatened to eclipse Robyn's vocals during the first verse. Letting herself drop out altogether while the crowd sang the chorus in entirety, word for word, a visibly emotional Robyn stood and listened, awed by the impact this song has had on this crowd of thousands, all hearing, replaying, and singing back our own forms of unshakeable independence in her lonely dancefloor anthem of resilience.
Singing, dancing and weeping to this song was a moment of catharsis that pop fans yearn for, and that plenty of Robyn fans have spent eight years hoping to experience. It's only in the last several years since the release of the song on Body Talk Pt. 1 that it has sustained the cultural impact in currently possesses, and she hasn't really toured while the song grew in stature. Which is the other interesting thing to consider when it comes to the music off her latest release, which fans are getting to see mere months after it came out. Who knows how that will shape the place these songs eventually take in her discography?
Mindful of both her fans' loyalty to old favorites, and the importance of her new work, Robyn expertly placed Honey standout and lead single "Missing U" in between "Dancing On My Own" and the obvious follow-up, her other undeniable hit, "Call Your Girlfriend," skillfully creating her own association between old hits and her latest music. That marked the end of the regular set, before a quick follow up encore composed of another Honey standout in "Human Being," one of her breakout songs in "With Every Heartbeat," and an ode to her frequent collaborator and one of the night's opening acts, Kindness, with a version of their 2014 collab "Who Do You Love?"
No amount of noise or confusion could mistake the answer to that question as fans trickled out into the uncharacteristically cold LA night: Robyn is more beloved now than ever before, and a forever partner for those who may routinely find themselves alone on the dancefloor. Suddenly, that doesn't seem like such a bad situation to be in after all.