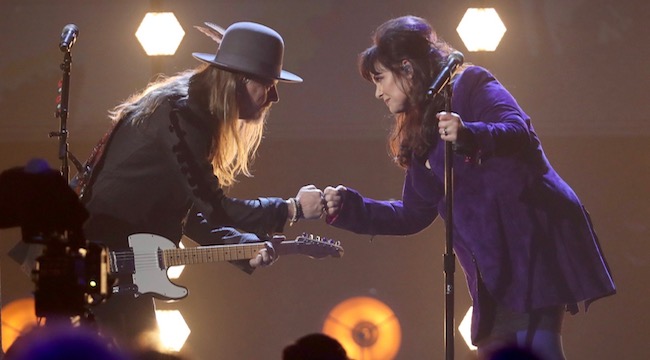 It was one of the more surprising snubs among this year's list of inductees into the Rock And Roll Hall Of Fame. Considering the groundswell of love and heartbreak that came following the death of Chris Cornell last year, many took it as a slam dunk that his iconic band Soundgarden would gain entry into the esteemed institution in Cleveland. This was not so, however. Fortunately, the organizers behind the induction ceremony saw fit to remedy the situation and reached out to some of Cornell's closest musical friends to deliver a fitting tribute to the man and his music.
Heart singer Ann Wilson and Alice In Chains guitarist Jerry Cantrell made their way out onto the stage during the event and ripped into an eloquent and emotional cover of Cornell's signature hit song "Black Hole Sun." As long-established members of the Seattle music scene, the pair were an exquisite choice to do the honors.
For those who can recall, back when Heart was inducted into the Hall a few years ago, they asked Cornell to do the honor of inducting them, which he was more than happy to do of course. As for Alice In Chains, Cornell and Soundgarden have been linked to that band since their very beginnings, and in fact, Cornell's ex-wife Susan Silver managed both bands at the very heights of their respective success.