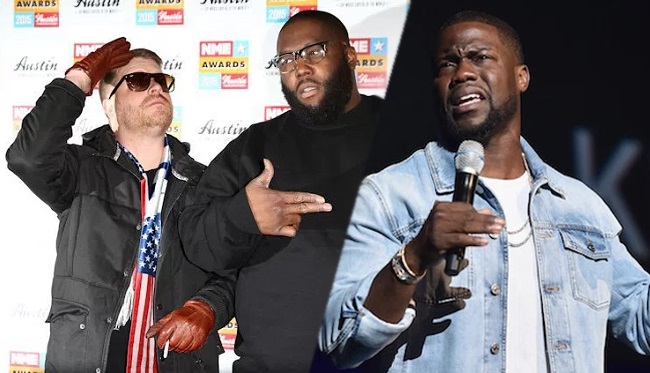 El-P and Killer Mike of Run The Jewels have been generous with their music and with their time when they spoke to us. But that generosity doesn't seem to extend to being pushovers if you want to use their name without picking up the phone and making a courtesy call first.
Right around the same time Killer Mike was saying Run The Jewels 3 will hopefully be coming this year, another Run The Jewels was being announced, and it has nothing to do with the RTJ we're familiar with.
The Hollywood Reporter revealed Kevin Hart is producing a movie called Run The Jewels about "a group of failed rappers who attempt to rob an eccentric hip-hop mogul." It's set up at Universal based on a pitch by Alex Blagg and Neel Shah, the duo who wrote the Black List script F— Marry Kill.
To be fair, the slang term "run the jewels" has existed for awhile, but it's become so associated with the rap powerhouse by the same name that you'd assume someone at Universal would have called El-P and Killer Mike before announcing this project, right? Nobody did, according to El-P. Although he didn't quite go so far as to invite them to run backwards through a field of sticks, he doesn't seem happy, referencing some Ramsay Bolton level wickedness on Twitter, saying, "Excuse me while I go starve a savage pack of lawyers for 7 days."
He followed that up by telling a fan that Hart and company "prolly lost our number. It's cool we'll be calling them."
The funny thing is, El-P once asked for a Run The Jewels movie. But not like this. That's not what he meant, Universal.
Somebody better call El-P and sort this out. You don't want him mad at you. We heard he punched a baby bear. Coldblooded.
(Via Vulture and The Hollywood Reporter)