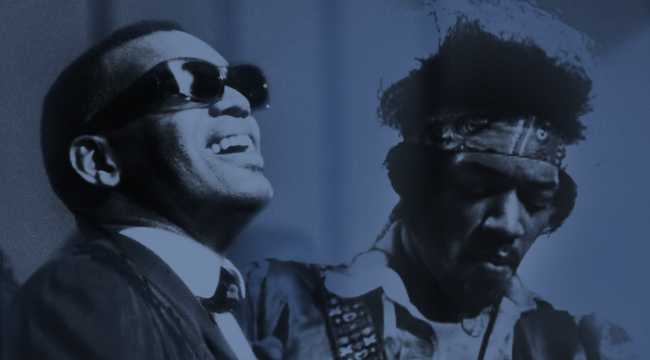 Though the guitar fuzz has faded and "grunge" has spread far and wide from its launch spot, music remains a big part of Seattle's identity. But the history of the "Seattle Sound" begins long before Green River's "Come On Down" and the "Deep Six" compilation and it's a lot more diverse, kickstarted in the 1940s around a premier jazz and blues scene that attracted greats like Count Basie, Duke Ellington, Nat King Cole, Charlie Parker, and so many more. It's also all connected and passed down like a trade secret from one legend to the next.
Ray Charles left the south and went to Seattle to sing the blues, and, subsequently, invented soul. His best friend was a young Quincy Jones who spent rainy day after rainy day honing his skills and writing music that eventually changed music forever. Jones' neighbor, Dave Lewis blended the soul, blues, and jazz of his youth and became the granddaddy of the Northwest Sound. Lewis went on to give Jimi Hendrix his first shot at performing on stage and a place to practice and plug in his electric guitar. And Hendrix would inspire locals like Heart, the '70s metal/punk of the UMen that inspired bands in the '80s, and what became grunge. And it's all tied together by determination, ambition, a few coincidences, and the Emerald City.

"Let Me Go There And See What I Can Do"
In the late 1940s, Ray Charles was a Florida teenager who went by the name of R.C. Robinson whose mother had recently passed away. All he wanted to do was make music, but Florida was proving too difficult a place to follow that dream. He wanted out, so Charles asked his bandmate and guitarist Garcia "Gosady" McGee where the furthest possible place from from Florida was. According to Charles' autobiography, McGee "took a map and went diagonal across it, and there was Seattle sittin' up in the Northwest, and I said let me go there and see what I can do."
In his autobiography Brother Ray: Ray Charles' Own Story, Charles recalls that 30 minutes after he talked his way past the bouncer at The Rocking Chair Club (which was in the midst of Talent Night), he had gone up on stage, banged out two songs, and earned a job offer on the spot from the club's manager — he hadn't even been in Seattle 48 hours at that point. Needless to say, the city recognized what a talent it had in the transplant immediately.
Charles' old guitar buddy, McGee eventually followed Charles up to Seattle, and the two formed the McSon Trio (a mash-up of McGee and Robison), and began playing as many clubs and stages they could find. The trio was a hit; they drew attention from local promoters like Bumps Blackwell, who, according to Charles' autobiography, helped them arrange gigs and broadened their audience by booking shows at white fraternities, which was far from common at the time, but certainly less scandalous than it would have been in the deep south.
Charles, who had come to Seattle on a restless five-day ride in the back of a bus (right by the noisy engine) due to segregation, was surprised by how desegregated Seattle already was when he arrived in March of 1948. The influx of black Americans who had come to the area to support the war effort, the return of black soldiers that had decided to stay in the Pacific Northwest, and immigrants who were fleeing strife in Asia and Europe helped to bring a cultural explosion to Seattle.
After gigs for the white population in the evening hours, Charles would work between 1 AM and 5 AM playing any show he could get into. In his autobiography, he further admits to using heroin once or twice a week and jamming with his favorite "cats" all night. He wrote that while he was always interested in getting high, the drug scene in the Northwest rivaled any thing else he'd experienced. "It was wild up there," he wrote. "I saw more in a year than five years before that. I saw cats bringing in huge cereal bowls filled with weed. I saw oceans of coke and heroin. I saw folk drinking whiskey like water." Charles adds that he was too poor to really get high that often, which he attributes to him not seeing "the ugly" side of the drug that cursed so many other Seattle musicians. Still, it took him 17 years and a trip to a medical facility to finally kick the habit later in life.