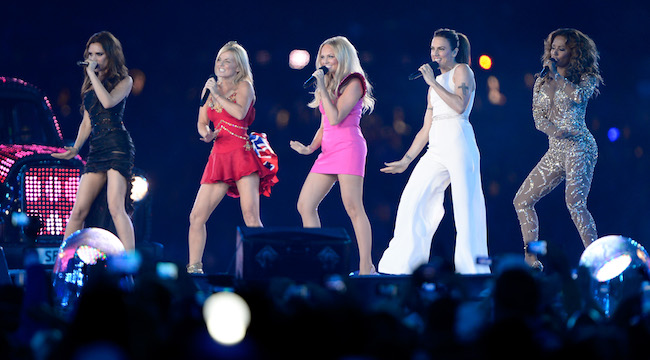 A couple of the biggest knocks on music festivals in 2018 is that they don't feature enough female-fronted acts at the top of lineups and that they aren't getting enough unique reunion shows to differentiate themselves. But here's a suggestion that after today seems a lot more possible: book the Spice Girls.
The beloved '90s pop quintet recently made news with a £10million reunion contract that was reported to not include a tour or an album. They took some photos together, though, marking a reunion to follow previous reunions at the 2012 London Olympics and a 2007 tour. But, according to TMZ, the previous reports were off base and the latest run will include tours of both the US and the UK.
Baby. Scary. Ginger. Sporty. And, of course, Posh. The names have become iconic at this point, and the opportunities for '90s pop artists looking to recapture a bit of nostalgia is high, with Brittney Spears conquering Vegas, the Backstreet Boys regularly touring, and, of course, Justin Timberlake about to be No. 1 on the Billboard 200 despite everyone's best efforts. But while TMZ proclaims there is no plan for a Vegas residency and no plans to record music, but they do suspect that as of now, late summer is the rough timeframe for a UK kickoff, before migrating to the US.
And, it will surprise no one to hear that Victoria Beckham, easily the most famous of Spice Girls, was the lone holdout while the rest have been down for a long time. Beckham, however, is now fully on board.