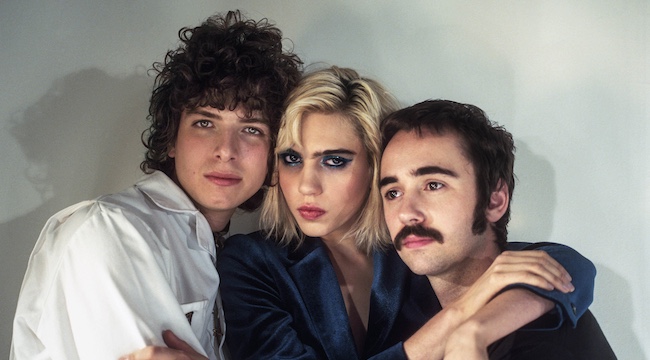 On their first record, 2016's Human Ceremony, Sunflower Bean saw themselves as a "rock" band, but following that experience, the group has consciously decided to more openly embrace the softer and vulnerable side of their sound. The result of that shift in mindset is this: Today, Sunflower Bean has announced their sophomore album Twentytwo In Blue, which is slated for release on March 23rd via Mom + Pop. The band has also shared lead single "Crisis Fest," which still rocks pretty hard but also has some seriously sunny The Go-Go's vibes.
Singer and bassist Julia Cumming says that their second record shows the group maturing into an entity that's more comfortable with itself:
"We're a rock band, and we would never want to be a ballad-y band. But also I think when you're like 18 and 19, you need to scream, you know? And in life you'll always need to scream. I was a little afraid to show myself as a singer, even to my bandmates, but I did and we were able to push ourselves. I think if anything, after making this, we're the most well-rounded we've ever been."

The band's Nick Kivlen adds that at least part of the record is influenced by the current political climate, because it's basically impossible for it not to be:
"This has been such an unbelievable time. I can't imagine any artist of our ilk making a record and not have it be seen through the lens of the political climate of 2016 and 2017. So I think there's a few songs on the record that are definitely heavily influenced by this sort of — whatever you want to say what the Trump administration has been."
Listen to "Crisis Fest" above, and check out the Twentytwo In Blue art and tracklist below, along with the band's upcoming tour dates. They'll be touring with Sleigh Bells from January 31st to February 14th, and supporting Jessie Ware on February 22nd.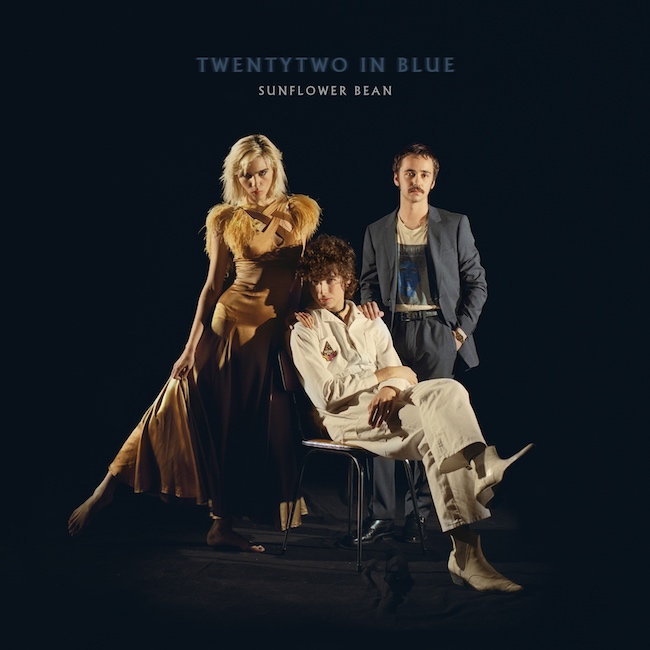 1. "Burn It"
2. "I Was a Fool"
3. "Twentytwo"
4. "Crisis Fest"
5. "Memoria"
6. "Puppet Strings"
7. "Only A Moment"
8. "Human For"
9. "Any Way You Like"
10. "Sinking Sands"
11. "Oh No, Bye Bye"

1/26 — Philadelphia, PA @ Everybody Hits
1/31 — Chicago, IL @ Metro
2/01 — Nashville, TN @ The Basement East
2/03 — Austin, TX @ Mohawk
2/05 — San Antonio, TX @ Paper Tiger
2/06 — Dallas, TX @ Granada
2/07 — Houston, TX @ White Oak Music Hall (Inside Downstairs)
2/09 — New Orleans, LA @ Republic New Orleans
2/10 — Athens, GA @ 40 Watt
2/11 — Raleigh, NC @ Lincoln Theatre
2/13 — Brooklyn, NY @ Brooklyn Steel
2/14 — Washington, DC @ 9:30 Club
2/22 — London, UK @ The Jazz Cafe
3/01 — Los Angeles, CA @ Moroccan Lounge
3/02 — San Francisco, CA @ Rickshaw Stop
3/24 — Nottingham, UK @ Rescue Rooms
3/26 — Norwich, UK @ Open Norwich
3/27 — Birmingham, UK @ Hare and Hounds
3/28 — Newcastle upon Tyne, UK @ Riverside
3/29 — Leeds, UK @ Wardrobe
3/30 — Manchester, UK @ Gorilla
3/31 — Liverpool, UK @ The Magnet
4/01 — Glasgow, UK @ Stereo
4/03 — Bristol, UK @ Thekla
4/05 — Brighton, UK @ Concorde 2
4/06 — London, UK @ Koko
4/09 — Paris, FR @ Point Ephemere
4/10 — Antwerp, Belgium @ TRIX VZW
4/11 — Amsterdam, Netherlands @ Paradiso
4/12 — Hamburg, Germany @ Molotow
4/13 — Copenhagen, Denmark @ Loppen
4/14 — Berlin, Germany @ Rosis
4/15 — Vienna, Austria @ Chelsea Club
4/17 — Lausanne, Switzerland @ Le Romandie
4/18 — Zurich, Switzerland @ Bogen F
4/19 — Cologne, Germany @ Blue Shell
5/20 — Gulf Shores, AL @ The Hangout Music Festival