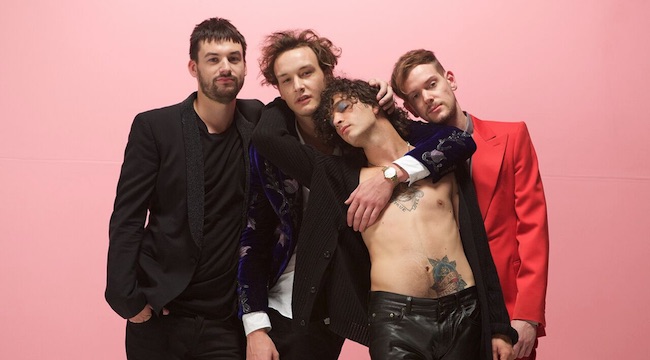 Before now, The 1975's Matty Healy had suggested that the band would come to an end after their third record, which he had also said would have the same name as their 2013 EP, Music For Cars. Now, though, a lot has changed: It doesn't seem like The 1975 is going anywhere, and they've just announced their upcoming third record, which is now called A Brief Inquiry Into Online Relationships, which doesn't yet have an announced release date.
[protected-iframe id="c641d741184a3c0d8ecfef3b872a0733-60970621-76566046″ info="https://open.spotify.com/embed?uri=spotify:album:4KZspTjVGaV9xeuaoUhEMh" width="650″ height="380″ frameborder="0″]
They've also shared the first taste of the record, "Give Yourself A Try," a frenetic and synthy yet guitar-driven track that packs a lot of bubbling energy into a shade over three minutes. He spoke with Zane Lowe about the album, saying that he was being "naive" when he said the band would finish soon, adding that the group is already planning to release another new album in 2019, called Notes On A Conditional Form:
"There is no album called Music For Cars. Music For Cars is what I was going to call this album, which is now called A Brief Inquiry Into Online Relationships. The reason I changed my mind is that I realized every writer wants a great ending, right? That's what you want as part of your repertoire. I think I had the drive to do that so much throughout I Like It When You Sleep. It was kind of driving me. And then when I started making this record I realized I was just being naive. I was kind of lying to myself, you know? I'm not going to stop The 1975, like, next year – no way. I don't want to do that.

I'm never ashamed of changing my mind in public, so I thought, you know what? Music For Cars is the era, you know? It's the umbrella for whatever music comes out in this time frame. We're actually doing two albums. We're doing A Brief Inquiry Into Online Relationships, and then I think in May next year, we're dropping Notes On A Conditional Form, which is a different album."
https://twitter.com/Beats1/status/1002263450632925184/video/1
It seems a lot has changed in a year, but in March 2017, Healy talked about his hopes for the record, and said he had big ambitions: "If you look at third albums, [Radiohead's] OK Computer or [The Smiths'] The Queen Is Dead, that's what we need to do. I want a legacy. I want people to look back and think our records were the most important pop records that a band put out in this decade."
Listen to "Give Yourself A Try" above.
A Brief Inquiry Into Online Relationships is out in 2018 via Dirty Hit and Polydor.