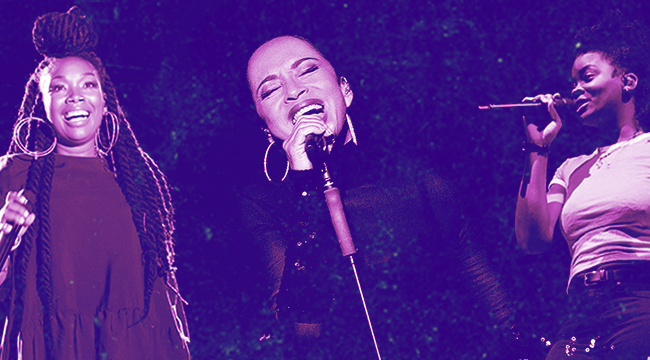 Sometimes good R&B can be hard to find, but there are plenty of great rhythm and blues tunes to get into if you have the time to sift through the hundreds of newly released songs every week. So that R&B heads can focus on listening to all the great music, every Friday we'll be offering a weekly digest of the hottest R&B jams fans of the genre should hear.
This week, Grammy-winning Sade released her new song "The Big Unknown," which was made especially for Steve McQueen's film Widows. As original movie soundtracks are currently having their moment, the Mike WiLL Made-It curated Creed II soundtrack was also released this week, including the smooth new track "Shea Butter Baby" by Dreamville's Ari Lennox featuring J. Cole, while legendary R&B powerhouse Brandy flexed her stunning vocals all over her new track "All I Need." Check out these and more new tracks below.
Sade — "The Big Unknown"
As the legendary Sade Adu works towards the follow-up to 2010's Soldier Of Love, "The Big Unknown," off the soundtrack for Steve McQueen's film Widows, is the iconic singer's latest offering until then. "The Big Unknown" captures Sade's ethereal energy perfectly, as her voice travels over deep piano keys and heavy strings to the clashing of hi-hats and snares in a rather sorrowful way. "I'm just trying to hold on / I'm falling in the dark below / I feel I'm falling in the big unknown / There's no fire and flame on this cold, cold plane," Sade sings. "No way to measure my pain." It's rare Sade releases any music and just this year alone, fans of Sade and her band got to hear new music from her twice.
Ari Lennox Feat. J. Cole — "Shea Butter Baby"
[protected-iframe id="e2d6cdfc0fcd805751ce50141232e040-60970621-76566046″ info="https://embed.music.apple.com/us/album/shea-butter-baby/1441989125?i=1441989350&app=music" height="150″ frameborder="0″]
Ari Lennox's voice on "Shea Butter Baby" is nestled superbly in between J. Cole's harmonizing and a lustful production offering decorative guitar riffs and unexpected, blazing synths. It's one of many songs featured on Creed II's original soundtrack released today and hardly needs to fight for its spot among the other rambunctious cuts featured on the project. "Shea Butter Baby" is shrouded in free spirit love making — without the shame.
Brandy — "All I Need"
"All I Need" is a new single from Fox's musical series Star sung by Brandy, who happens to star in the show herself. Brandy undeniably has one of the best voices of this generation and she reminds everyone of this on "All I Need." The track could easily become a classic bride and groom's first dance song. "You're all I Need / You're all I want / Here is my heart, here is is my love," she lovingly croons.
Mariah Carey Feat. Slick Rick & Blood Orange — "Giving Me Life"
[protected-iframe id="b7daece9947dbd4636b5c4dcb879c5ce-60970621-76566046″ info="https://embed.music.apple.com/us/album/giving-me-life-feat-slick-rick-blood-orange/1439301449?i=1439301745&app=music" height="150″ frameborder="0″]
Honestly, Mariah Carey really outdid herself on her new album Caution, and "Giving Me Life" featuring Slick Rick and Blood Orange is the blessing that Mariah's fans all knew she could deliver. The infectious vibe of the track is slow and passionately dwells in angelic summer love. Blood Orange deserves recognition for carrying the track to its pleasure-focused peak at the end. It's not until this moment that a craving for more Mariah and Dev Hynes settles in.
Normani Feat. 6LACK — "Waves"
Normani and 6LACK come together for the ultimate duet on the Jonah Christian-produced single "Waves." Fluctuating emotions are the topic of this song, which addresses the familiar issue of wanting to be with someone but not wanting to be with them at the same time. Normani will be joining Ariana Grande on her Sweetener tour and is slated to release her debut album at the top of 2019. With her latest string of releases, the albums sounds to be promising.
Anderson .Paak — "Mansa Musa"
[protected-iframe id="ac7ce100478945e8c1bc7f4b38bc1c0b-60970621-76566046″ info="https://embed.music.apple.com/us/album/mansa-musa-feat-dr-dre-cocoa-sarai/1439982774?i=1439983451&app=music" height="150″ frameborder="0″]
Anderson .Paak's Oxnard is out and "Mansa Musa" featuring Dr. Dre and Coco Sarai is a standout. The song was originally Dre's, but he gave it to Paak. "Mansa Musa" is a reference to the richest man in the world who hailed from the Mali kingdom in Africa, and the song sounds like it's dripping in pure gold. "Back on my bullsh*t / I got some money to blow / I'm lookin' good, b*tch," Anderson aggressively belts out on the track. "Even though I's the king, I stay hood rich / Mansa Musa, gold jewelry / Ooh, what'chu talkin' 'bout? Sh*t, gold two piece."
Lucky Daye — "Roll Some Mo"
Bubbling R&B singer Lucky Daye dropped the music video for his I EP song "Roll Some Mo" this week. Upon first listen Lucky could be singing about smoking marijuana with his girl but, he could also be singing about the way Mary Jane makes him feel. The visual shows Lucky and his lady rolling up and enjoying each others company.
WIINSTON — "Angelina"
WIINSTON is the Danish R&B duo that deserves to be heard. "Angelina" is a great introductory track for the Copenhagen Records-signed group made of Alfred Thomas and Daniel Wagtmann. The producer-songwriting pair's 12-track debut Midnight Rocket was released today and does not disappoint.