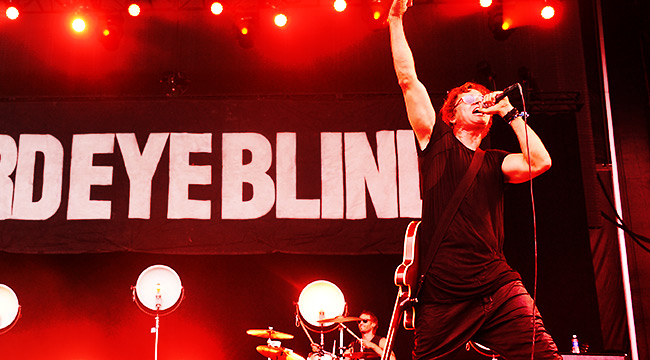 Of all the strange, unfathomable events that we've had to process during this exceedingly strange, unfathomable summer, among the most peculiar is the unlikely resurgence of '90s alt-rock band Third Eye Blind. For those who missed it: the group performed at a fundraiser earlier this week in Cleveland for an audience of Republicans in town for the party's convention. What would normally be a low-profile gig for a journeyman rock band went viral when frontman Stephan Jenkins mocked attendees ("Raise your hands if you believe in science") and pointedly prefaced the anti-suicide song "Jumper," the only hit in the set list, with a call to "move forward and not live your life in fear and imposing that fear on other people." When the audience responded by booing Jenkins, he replied, hilariously, "You can boo all you want, but I'm the motherf*ckin' artist up here."
Because someone shot a video of these shenanigans, the Third Eye Blind story was picked up by pretty much every media outlet. I even saw it on my local evening TV newscast. The tone of this coverage tended to vary between grudging admiration for 3EB's trolling and bemused bewilderment that we were all talking about that band, which most people remember (if at all) for the irritating/indestructible ear worm "Semi-Charmed Life," a top five hit from 1997 that was recently described by the Los Angeles Review of Books as having "everything you might have hated about the '90s, there in one place." Implicit in this discussion was the assumption that after a few days the world would go back to forgetting that Third Eye Blind ever existed.
My friends, I am here to report that this will not be the case, because Third Eye Blind is more beloved and important than you might realize.
I didn't get it myself until recently. But over time I noticed that Third Eye Blind came up consistently whenever I talked about '90s music with people at least five to 10 years younger than me. They seemed to revere Third Eye Blind beyond all reason. I couldn't believe my ears, but eventually I couldn't argue with it, because this is how music history gets written (and rewritten). Sometimes, the bands you least expect to endure wind up going the distance, thanks to a new generation of gatekeepers. And, in this case, those gatekeepers happen to really dig Third Eye Blind.
For people like me in their late 30s or early 40s, who likely encountered Third Eye Blind while in college, the band is commonly associated with what I call "bubble-grunge," which refers to the class of alt-rock bands that infiltrated radio in late '90s in the wake of Nirvana's implosion and Pearl Jam's retreat from the mainstream. This was the "cash-in" stage of alt-rock that unwittingly hastened the genre's end, signified by Collective Soul, the Goo Goo Dolls, Eve 6, Matchbox Twenty, Marcy Playground, The Verve Pipe, and other bands of that ilk.

Third Eye Blind was among the biggest of these acts — its 1997 self-titled LP went platinum six times and spawned five singles. (For the sake of comparison, another notable rock album from 1997, Radiohead's OK Computer, has only gone platinum twice.) Even if you didn't own the record at the time, anyone who cared remotely about pop music probably knew several Third Eye Blind songs, as the band was inescapable on the radio. Since I had a soft spot for bubble-grunge even back then, I couldn't resist the likes of "Jumper" or my favorite 3EB track, "How's It Going to Be," which for me ranks as the finest bubble-grunge ballad ever. To this day I find it far more tolerable than the Verve Pipe's "The Freshmen" or the Goo Goo Dolls' "Iris." (I almost inserted Tonic's "If You Could Only See" into this discussion, but after revisiting it just now, the song is probably too fast to be classified as a ballad. But still: Don't sleep on Tonic, fellow bubble-grunge appreciators.)
Overall, I didn't have a strong opinion about 3EB one way or the other, other than viewing them strictly as a '90s band. That more or less jibes with the conventional wisdom on Third Eye Blind, which filtered through the coverage of the band's eventful show in Cleveland this week.
However, it doesn't line up with what I've heard repeatedly from people in their 20s and early 30s. As one fan told me this week: "I think most people remember how 'Semi-Charmed Life' was played about five times a day back then — probably enough to make anyone sick of it, but I loved the song. It never got old." The rest of us might have moved on, but these people stuck with Third Eye Blind.
You don't have to dig deep on the internet to discover a reservoir of love for Third Eye Blind, particularly among punk and emo fans, who have similarly resuscitated other '90s rock bands like Weezer and Counting Crows that were left for dead by critics and much of the rest of the world. And Third Eye Blind has courted that audience by touring in recent years with popular bands from that scene, including Dashboard Confessional and All Time Low.
A Pitchfork review of Third Eye Blind's 2015 tour with Dashboard Confessional classified it as a nostalgia show; this is a common tactic by music critics who want to minimize an audience's interest in a particular artist who they believe is irrelevant. "Nostalgia" is code for "not legitimate." But based on the fans I've spoken with, I honestly think this band's appeal goes deeper than reliving the '90s.
For these listeners, Third Eye Blind's self-titled debut is one of the classics of the era. "Perfection in a song is one thing, but to have an entire album of perfection is an amazing experience," wrote a reviewer for PunkNews in 2011, after describing the record as a cathartic experience "that stood face to face with my emotions and got everything perfect, right down to the horrible details." Numerous punk and emo fans that I've encountered in social media have praised Jenkins' songwriting, particularly on deep cuts from the first album like the break-up lament "Motorcycle Drive By" and the similarly contemplative "God of Wine." A shockingly earnest appraisal posted last year on Deadspin classified Jenkins — who struck an arrogant, polarizing posture in his MTV prime — as "an exceptionally acute and sensitive writer," prompting the Deadspin writer to ponder: "Does Jenkins' proximity to hideousness give him the unusual ability to translate spectral intimacies?"
If you thought it was impossible to take Third Eye Blind too seriously, think again. These fans aren't just into the group's hits-laden blockbuster debut — they also stump for 1999's Blue and 2003's Out of the Vein. Later albums like 2009's Ursa Major and 2015's Dopamine don't get quite as much love, but Dopamine seems respected as a solid later-career release, a la Radiohead's recent A Moon Shaped Pool. In its review of Dopamine, AbsolutePunk concluded that "[Jenkins] is still capable of writing catchy songs with deep, unique, and often devastating lyrics. Dopamine isn't his best record, and it might be his worst, but for one of the slyest songwriters from the past two decades of pop, 'worst' can still be pretty damn great."

According to true believers, Third Eye Blind isn't a nostalgic relic, but rather a still-vital and creative enterprise, no matter the lineup changes that have occurred over the years. (Jenkins is 3EB's sole remaining founding member.) For the rest of us: What is going on here? This can't be dismissed as revisionism, because these people have always felt this way. It's just that now you can feel their influence creeping in.
What this Third Eye Blind love shows (once again) is that music history is in a state of constant evolution, and is often shaped most definitively by later generations. In the '70s, Black Sabbath and Led Zeppelin were derided by music critics, who tended to prefer either leftovers from the '60s (like the Who and Rolling Stones) or singer-songwriters like Joni Mitchell and Jackson Browne. Of course, Sabbath and Zeppelin are now recognized as two of the most important bands of that decade. Similarly in the '80s, Duran Duran and the wave of synth-driven "New Romantics" from England were viewed by the intelligentsia as having no staying power; today, history has rewarded these acts for their prescience in melding guitars with dance music.
Now, this shift is happening with '90s music, where the tastes of those who were in grade school and junior high at the time is starting to shape the canon. This is bigger than just Third Eye Blind — the best example of this phenomenon right now is probably Blink-182, who were regarded in the late '90s as bubblegum pop-punk, but now, 20 years later, get laudatory write-ups in The New Yorker. 
When I've interviewed members of some of the best contemporary rock bands — including Modern Baseball, Pinegrove, and recent Pitchfork Fest performers The Hotelier and Car Seat Headrest — they express great affection for the bubble-grunge bands of the '90s, in part because they were too young to worry about all the credibility baggage that older listeners and music writers got hung up on. Instead, they appreciate what made those bands good — their hooks, their shiny guitars, and their anthemic accessibility. All three attributes have helped to keep Third Eye Blind going almost two decades after their debut.
Again, an old truth has been re-affirmed: If you want to stick around, appeal to people between the ages of 8 and 14. Be the soundtrack of sleepovers and school dances. Get on the radio and implant your music on people's brains. That way, the world won't be able to get rid of you decades later, even after your band is no longer trending in social media.