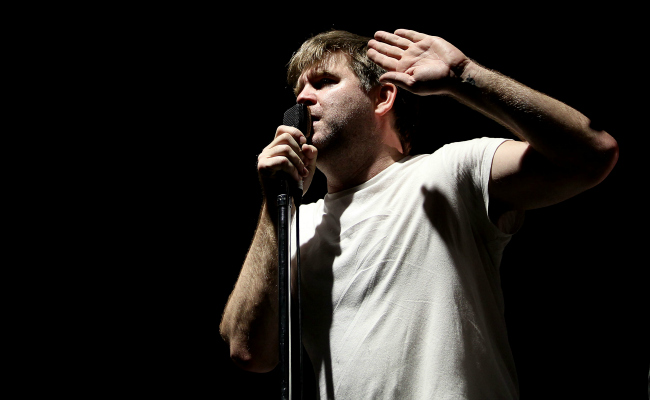 As you've probably heard by now, LCD Soundsystem are getting back together. They're playing Coachella as well as working on their fourth album. Incredible news, right? Well, for most fans of the group, yes, but there is one segment of people who aren't quite as stoked about the news: the people who paid ridiculous amounts of money to see LCD's "final" shows at Madison Square Garden in 2011 who thought they were seeing their favorite band's last show ever. They thought this was the last chance to see them! Turns out they could have waited five years and saved their money.
When you pay money for concert tickets, what exactly are you paying for? Is it simply a chance to see an artist's music performed in person, or is it more about the overall experience? And what goes into that experience? The sense of camaraderie that comes with being among your fellow fans surely plays into it. And there's the way you teared up a bit when they went into your favorite song. But of course, there's the fact that for the rest of your life, you'll be able to say to anyone willing to listen, I was there.
That's where the LCD situation comes into play. People bought tickets to these shows because they thought it was their last chance to see LCD Soundsystem. Because of that sense of urgency, they were willing to pay way over face value for tickets. Scalpers took advantage of this, and jacked the prices of into the thousands. Naturally, the people who paid those exorbitant prices are now a bit irked. Had they known they could have just waited five years and gone to Coachella, they might not have paid top dollar to a scalper to catch them at MSG.
Even Murphy himself explained he understood the frustration of those fans in an open letter:
"if you cared a lot about our band, and you put a lot of yourself into that moment (or anything about us you chose), and you feel betrayed now, then i completely understand that. it's your right to define what you love about a band, and it's your right to decry their actions and words as you see fit, because it's you, frankly, who have done much of the work to sustain that relationship, not the band."
Okay, the frustration there makes sense, but does that mean James Murphy should be blamed for having second thoughts? Because he told people LCD were done, and people paid more to see them because they thought they were done, does that mean Murphy and his cohorts have an obligation not to change their mind? That doesn't exactly seem fair. To anyone.
One thing all music fans need to keep in mind is that bands can be extremely fickle. Just because a band says they're done for good doesn't mean they actually will be. Just look at how many times the Eagles reunited! They literally had a tour called the Farewell I Tour because they knew they weren't really done. Sure enough, they toured last summer, and were it not for the shocking death of Glenn Frey, they probably would have toured again. The panic of "oh no, if I miss this show, I'll never get to see my favorite band again!" is quite palpable and understandable, but I can't stress this enough: if your favorite band tells you they're really, really, double pinky swear never touring again, take it with a massive grain of salt.
Now, for the fans who went to LCD Soundsystem shows at MSG, I get it; you didn't just want to go to a concert, you wanted to be part of history. To be completely honest, you still did; just not in the way you thought. See, you thought you were going to The Last LCD Soundsystem Show Ever. Instead, you went to The Last LCD Soundsystem Show Before James Changed His Mind And All The Fans Who Bought Tickets Were Kinda Miffed About It. And if that's not enough, at least you can say you were part of both Shut Up And Play The Hits and The Long Goodbye. LCD's shows at Madison Square Garden are still important. The massive ticket sales showed that an act that was written off as a "niche hipster band" was popular enough to sell out multiple shows at one of the biggest arenas in the world, and the concerts themselves represented the end of the band's first era. LCD Soundsystem's decision to reunite has changed the context of the 2011 MSG shows, but it hasn't rendered them any less meaningful.
The historical importance of a show can never be known when you buy the ticket. Think of it this way: In 2009, I bought nosebleed seats to see Springsteen when he came to Buffalo. It was the last show of the tour, and the band played Greetings From Ashbury Park, N.J., in its entirety, so it was already an important show going in. But there was one development that no one saw coming: it would become the final show that the Boss ever played with Clarence Clemons, who died from cancer two years later. Because of that, it's considered one of the most legendary shows Springsteen and the E Street Band have ever played. So, should that make the experience I had more valuable? Is my ticket retroactively worth more because one of the musicians on stage died 19 months later? That seems like a really grim, cynical way to look at things. The fact that the historical context of that show changed after the fact didn't my experience any better (although it was the best concert I've ever went to), and it shouldn't make yours any worse.
That doesn't mean the people who paid top dollar for those shows thinking it was their last chance still don't have a right to be miffed, but they should be miffed at the right people. The scalpers who cynically charged as much as they could to take advantage of people are your real villains here (and don't forget, Murphy fought against them at the time). They're cold-hearted leeches who prayed on the emotions of music fans. They are your enemy, not the band.
As Rob Harvilla pointed out in a great piece for The Concourse, James Murphy doesn't have a moral obligation not to change his mind or not to make music. Paying nearly $1,500 for tickets because you think it's the end, only to find out you could have just waited is undoubtedly a bummer, but that doesn't mean a great band shouldn't get back together, and it doesn't make LCD's reunion any less awesome.