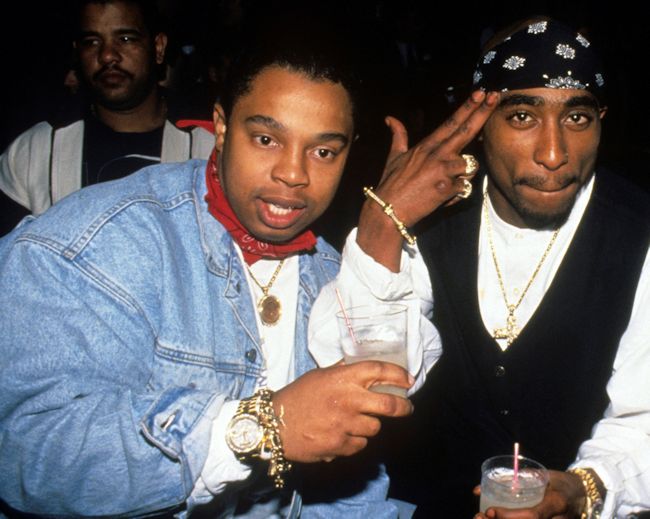 Only extremely staunch — or perhaps morbid — Tupac fans may be interested in the latest piece of memorabilia to go up for sale to the public. Auction house Moments In Time recently listed a medallion they claim the deceased rapper was wearing during the infamous 1994 shooting incident at Quad City Studios in New York City. Although details are few on the site, they do include that the jewelry is "bullet-dented." Currently, the one of kind item is available at the fixed price of $125,000.
How Moments In Time got their hands on the piece is a little more unclear. Company owner Gary Zimet told TMZ they received the item from an unnamed family member and the majority of the profits will go back to this unknown person. According to the same report, Tupac's estate indicates "no one has the authority to sell any Tupac item — not even family members." They're against the sale and reportedly will file suit against the seller and any potential buyer who winds up with it.
The Quad City Studios shooting is shrouded in as much mystery as the fatal shooting that happened two years later in Las Vegas. As most will recall, the 1994 incident is the one Tupac claims that Biggie and P. Diddy had involvement in, along with other figures like Haitian Jack and Jimmy "Henchman" Rosemond. The rapper was shot five times in what was alleged to have been a robbery attempt. Throughout the years, different theories have existed while all the parties Pac blamed denied any involvement. However, Haitian Jack, most known for his namecheck in "Against All Odds," spoke out a few years ago insinuating Jimmy Henchman was the one who orchestrated the attack.
To date, no one has been arrested in the shooting.