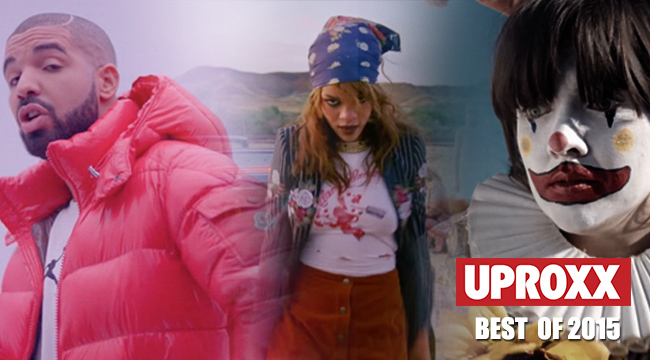 The year in singles has so many stories to tell, that we don't even have the time to address all the mini-plotlines. There was the Bieber-ssaince to redeem him back to glory, after years of such shame. (SHAME.) Adele had us weep openly and embarrass ourselves among certain friends who don't text back anymore. And Fetty Wap had a streak only rivaled by a select few, all while having millions of people gleefully singing a four-digit number (you know the one).
Considering all of the unforgettable singles that dropped this year, we somehow had to determine the 40 that were head and shoulders above the rest. Here is Uproxx Music's Best Singles of 2015.
40. The Dead Weather – "I Feel Love"
It's pretty hard to deny how much this sounds like a Led Zeppelin song, but hey, that doesn't have to be a bad thing. What this song may lack in originality, it makes up for in sheer badassery, as Jack White's Page-esque riff combines Alison Mosshart's sultry vocals to create one of the coolest sounding songs of the year.
-John Hugar (@john_hugar)
39. Carly Rae Jepsen – "I Really Like You"
If we're being honest, most of us probably wrote Carly Rae Jepsen off as a one-hit wonder after "Call Me Maybe" a few years back — but then she kicked this year off with America's Sweetheart, Tom Hanks, and we were totally into it.
When your friends want to judge you and question why you like her so much, like mine have on countless occasions, send them this video – my adoration for this album has been questioned so many times, and when I send them this video, they get it. It's absolutely impossible to deny this song and Tom Hanks' charm when paired together. With that said, I'd like to send a sincere thank you to Tom for helping me ease all my friends into Carly (and for shaking my hand earlier this year, that was pretty great).
– Spencer Hansen (@_andampers)
38. A$AP Rocky – "Everyday"
The thought of A$AP Rocky, Miguel, and Rod Stewart on a track sounds like the result of a weird mad lib that was completed by your grandma and your stoner cousin, yet "Everyday" somehow combines the three artists in the best way possible. A Rod Stewart sample handles the chorus with assistance from Miguel, and A$AP's verses are top notch. The highlight of the song is Miguel's bridge which really flaunts his vocal range and flexibility.