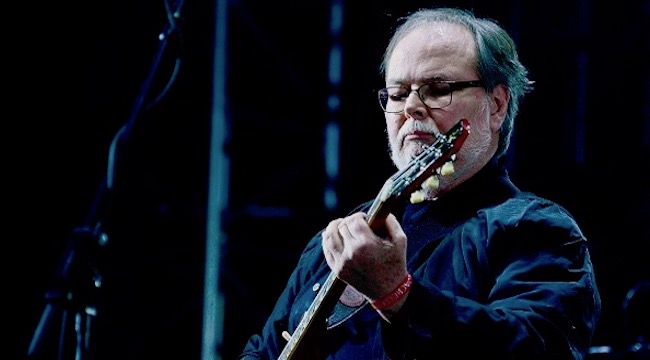 Walter Becker, the imitable guitarist and co-founder of the 70's rock giant Steely Dan, has died. He was 67 years old. The news was confirmed through a picture posted to his official website. At this time, a cause of death has yet to be revealed.
According to an interview given by his bandmate Donald Fagen to Billboard, Becker had recently undergone some kind of operation that left him unable to tour. "Walter's recovering from a procedure," he said. "And hopefully he'll be fine very soon." The last time the pair shared the stage together was at the massive Classic East and Classic West concerts in New York and Los Angeles respectively earlier this year headlined by Fleetwood Mac and The Eagles.
Becker was born in Queens, New York on February 20, 1950. He met Fagen for the first time while they were both students enrolled at Bard College in Annandale-on-Hudson, New York. The pair worked and played together for a while before moving to Los Angeles, California and forming Steely Dan, a name they took from a sex toy in William S. Burroughs' novel, Naked Lunch. Beginning with their first record Can't Buy A Thrill — which was filled with classic hits like "Reelin' in the Years," "Dirty Work" and "Do It Again" — Becker enjoyed an incredible run of success with the Dan, pumping out a wide and diverse range of meticulously recorded iconic albums that included Pretzel Logic, Gaucho and, what many consider to be the group's magnum opus, Aja.
Shortly after the release of Gaucho in 1980, Becker and Fagen went their separate ways for a while, but reunited 13 years later in 1993 and have remained collaborators ever since, touring almost constantly and notably performing at Coachella together a few years back. In addition to the Dan, Becker also released two solo album 11 Tracks of Whack in 1994 and 2008's Circus Money.
He will be deeply and sincerely missed.