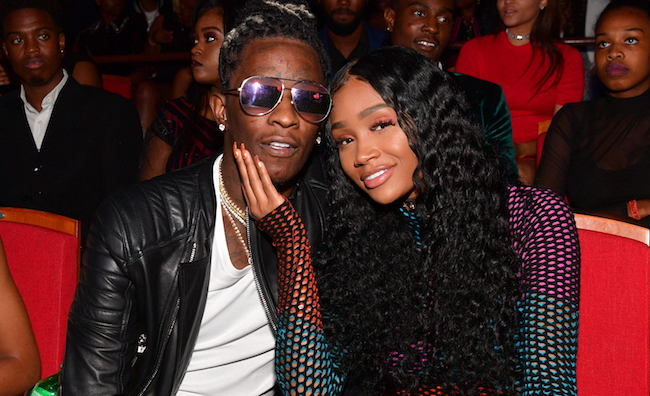 Update: It looks like Thug is done begging and has downgraded to the threatening portion of the breakup. Early on Friday (October 6), he quoted the tweet from Karlae below about being "back on the market," and responded: "What market?? Bitch u goin die OnGod." That's not cool on Thugger's part at all. With statistics telling us how likely women are to be victims of partner violence, he can't even try to play like this was a joke or he was exaggerating. Hopefully, he cools out before trying to address this issue again, before he gets himself in serious trouble, or worse.
Young Thug and his fiance Jerrika Karlae have been nothing but a perfect couple in the public eye, with Thug always appearing the doting, happy boyfriend. He's written love ballads for her and released them on Valentine's Day, supported her business endeavors and showered her with love all throughout his music.
Apparently, that didn't stop Thug from cheating though, or stop the very public scandal that followed on social media the past few days. After Jerrika aired Thug out on Snapchat for allegedly cheating on her, she declared herself "back on the market" on Twitter.
Well, whether it's true or not, Thug is on the defensive, and he took to Instagram to very publicly apologize and beg Jerrika for another chance. "Bae, give me a chance and I promise I won't mess up no more," he said on his Instagram story, seemingly admitting to the infidelity before urging his fans to tell Jerrika to give him "one more" chance. "It wasn't even my fault man," he pleaded. "Like six n****s be using that phone, man. It wasn't even my fault, you tripping. You crazy."
https://www.instagram.com/p/BZ4wX43jomT/?taken-by=balleralert
In another video a few minutes later, Thug is seen feigning crying, with the caption "Garfield," but says nothing and doesn't offer anymore details. As of now Jerrika has yet to respond on any of her social media accounts, but with the way Thug's devoted fans are, surely she's hearing about and seeing the videos as they try to reunite their guy with his gal.