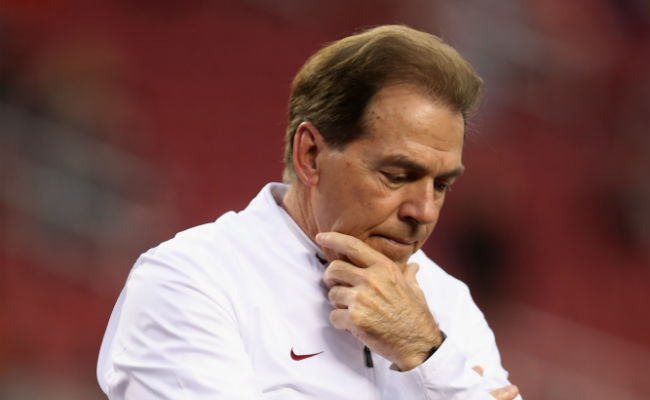 The 2019 title game in the College Football Playoff was an unexpected blowout on Monday night, with Clemson stunning Alabama in a 44-16 game that never truly went the way of the Crimson Tide in Santa Clara, California.
True freshman quarterback Trevor Lawrence was brilliant for the Tigers and running back Travis Etienne dominated the vaunted Alabama defense, with the Clemson offensive line literally getting a curtain call after owning the trenches for the majority of four quarters.
The most stunning fact that came out of Monday's title game was that not only was it a monumental statement for Clemson, who became the first team to go 15-0 en route to a College Football Playoff championship win, but that Alabama coach Nick Saban endured his first blowout loss of his Crimson Tide tenure.
No, really. In fact, Clemson's championship blowout was the first lopsided loss Saban had endured since he was the head coach of the Miami Dolphins. To make matters worse, when you actually consider who Saban got blown out by it makes the stretch of Bama dominance all that more stark.
That's the Dick Jauron-led Buffalo Bills, for the record, something this writer knows a whole mess about. That game was also the last time a Nick Saban team was shut out, something that seems remarkably unlikely given just how dominant Alabama is in both the SEC and college football at large.
The closest to that 21-point loss margin? A trio of 14 point defeats, one in the 2009 Sugar Bowl, one to South Carolina in 2009, and another in the 2014 Sugar Bowl. That Alabama had never seen a three-score loss under his reign until Monday night really says more about how good Alabama has been in that decade than anything, but it also is a good indication of just how big a whooping Clemson put on the folks with elephants on their luggage on Monday night.
So often during Saban's tenure with Alabama does the tide surge back and, well, wipe away the competition. It happened last season against Georgia in the title game and countless times in big SEC games where the stage was never too much for his Alabama team. But on Monday night, as the game clock ticked down and the Tigers kept scoring, it finally looked like Saban's team was beatable. And a Saban-coached team looked entirely beatable, just like the aqua and orange group he coached in the AFC East when he could get outcoached by Dick Jauron on a Sunday in fall.