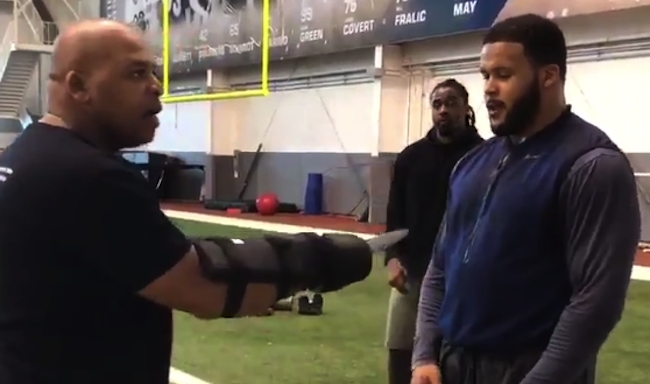 Aaron Donald is arguably the NFL's best defensive player. He is regularly near the top of the NFL's quarterback pressures list, despite being a defensive tackle rather than a defensive end, and his combination of explosiveness and strength is so unique that he is a borderline unstoppable force in one-on-one situations.
The Rams recognize this and know their All-Pro defensive tackle requires significant attention from opponents, so they went out and signed Ndamukong Suh to play next to him, forcing opposing teams to make a very difficult choice on which player to double on any given play. This may result in teams getting creative with their plans for attacking Donald and Suh, and Donald is making sure he's ready for anything.
If Donald does avoid seeing more double teams thanks to Suh's presence, he knows opposing guards and centers will come at him with everything they can in one-on-one scenarios. So, this offseason he's preparing for them to literally attack him with anything by practicing his block-shedding technique against a man holding knives.
My first thought was this was some elaborate April Fool's Day prank, but I don't see how this could possibly be a prank as we have video of him doing the work, and there appears to be method to the madness.
Now, it doesn't look like my guy here is holding sharp knives, and they may not even be real knives but rather plastic toy knives or something as he didn't seem to stab anyone when they missed. In any case, this is still a pretty unique way of working on having fast hands to knock away a blocker's hands, allowing for space to move and get by to get after the quarterback or ball carrier. I'm not going to question Donald, however, as it clearly works for him.