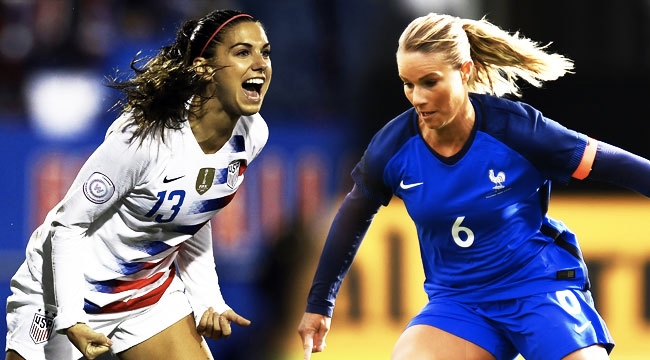 Asking Aly Wagner to identify the under the radar players to watch at the 2019 Women's World Cup in France can be a bit difficult. Wagner, a former U.S. international, will serve as the lead match analyst for Fox Sports for the tournament. In her eyes, the field boasts more talent than ever before, from top to bottom.
"As we're seeing in 2019 compared to 2015, there are so many teams that are just much more tactically nuanced and savvy from the team that is the lowest-ranked in the World Cup to right up to number two," Wagner told Uproxx over the phone.
This presents challenges from picking specific players to keep an eye on, if only because there are just so many of them. Her list is lengthy: Among others, France boasts Delphine Cascarino, Kadidiatou Diani, Amandine Henry, Élise Bussaglia; England has Lucy Bronze, Keira Walsh, Steph Houghton, Ellen White, Fran Kirby; Germany features Melanie Leupolz, Dzsenifer Marozsán, Lina Magull; Japan will hope Yui Hasegawa and Yuka Momiki can get them to a third final in a row; the United States, well, it's the United States.
Wagner helped Uproxx preview the upcoming tournament, which kicks off on Friday — France takes on South Korea in the opener — and runs through June 7.
I think one of the great tragedies about soccer fandom in the United States that is changing a bit is that fans are kind of prone to tuning out and only tuning in for World Cups, for the men's team, for the women's team, for all the teams. Is there a difference in how the Women's National Team approaches the game in 2019 compared to how they did it when they won in 2015?
A lot looks different, I think, from 2015 to 2019. The way they play is definitely different. It was still … I would just consider it a lot less tactical in 2015 and more direct. They're really intent on building out of the back this year. I would say in the lead-up to this World Cup, they've had to shift in that regard. I think they're still not as patient as they can be, but I think they're trying to be more patient, and they're trying to understand the specific movements, I would say, to help open up stingy defenses.
I just think there is a greater understanding in the women's game of how to stymie the opponent and how to hang in physically. They just happen to be more thoughtful in the approach, so it looks different. I actually think it's much more entertaining, and I think it's going to lead for a much better World Cup, just because games are more competitive, but I think there is just a greater control of the game and of the ball that we just didn't have much of in 2015.
And then personnel wise, I would just say along with the tactical shift, you have the likes of a Rose Lavelle coming into the mix, and I think you get glimpses of what she did against Mexico. Her ability just to sit in the half space and create or make something out of nothing, her final ball, her vision. It's all there.
So she's a player that makes this team look different, Julie Ertz moving from the back line to the midfield, people are going to tune into this match [and] aren't going to be ready for it because she was the stalwart on the back line with [Becky] Sauerbrunn in 2015, now she's kind of put into that position in the midfield being that vocal and instrumental leader there. Obviously Alyssa Naeher is a big talking point for everyone. You know what shoes that Alyssa Naeher has to fill, the likes of Briana Scurry, Hope Solo, so those are really big personnel shifts that are going to impact the way the game looks. And Lindsey Horan would be another one that I would throw in there for sure.

You go back and you look through some of the results of earlier this year. There's that 3-1 loss to France, there are a couple of draws in the She Believes Cup. They got off to a bit of a rocky start, but in the lead up to the World Cup thrashed Belgium, took down New Zealand pretty easily. How have they kind of gotten past those early 2019 struggles to get into really good form heading into France this year?
I think the first point is that you have to also look at the quality of the opponent. So Belgium, Mexico, New Zealand, South Africa. These aren't top-tier teams and so we expect the U.S. to control those matches, to dominate and to get the results in a renowned fashion, and they did that. So that's one aspect to it. But I think another big aspect to it is that when they came in in January, these girls had to have a break. They were coming off such a long season with the NWSL and doing double duty with the national team takes its toll on the body.
So they all needed a break. They didn't come into January fit, fresh, and ready to go. They came in rested and really looking to, now, ramp up into the World Cup. And I think you saw that even in January, February, and March now that can be a little bit of an excuse, but I think it's very real and it's a factor and you can't negate it. The other thing is that what these teams did was expose U.S.'s weaknesses and really make them focus and understand what level they're going to have play at on both sides of the ball to be able to repeat and get back again.
I wouldn't say they're past it, because my guess is … what would happen to me when we played in these world championships, when you get into that knockout phase and you're facing a really difficult opponent — we presume they're going to get there — is that you still have a little bit of that taste in your mouth from those matches. They might seem like they're past it because [of] these send off friendlies, but I do think that it's going to be a mental challenge for them when it comes to knockout stages because they're going to have those fresh memories from some of these results, but I do think that this U.S. team, they use that as their fuel, and so that is why this team has been so dominant is because those disappointments that they felt internally, they're able to shift that into motivation and they don't necessarily let it wear heavily the way other perhaps players nations do.
Talking about those lead up friendlies leading into France, we have a pretty good sense, I like to think, of what Jill Ellis thinks her first-choice XI is. What is the area that you're watching that piques your interest the most through group play as they are getting settled into the World Cup before, potentially, the knockout stage?
This is a good distinction. In group play I'm going to be looking at the fluidity of the offense. I'm going to be looking at the connection because the first two opponents are likely teams that are going to sit in, and I'm really curious how well the U.S. is able to pull them and dictate to the opponent their shape as opposed to the opposite, and I really want to see how they can pull them out shape basically.
On top of that, control play. Thailand has a fast forward, Sweden, and then I would say Chile is explosive as well on the break. I'm really curious how they handle their attacking shape to kind of unlock the opponent and keep possession, or keep it locked in so that shape outside the 18, once the ball does get cleared, what does that look like and how are they structured to set up to prevent the counter, and how risky are they in sensing overloads in the zone to unnerve, I guess, or unbalance Chile and Thailand.
So those are really just the offensive side of things that I'm looking at, I would say, in those first two matches, and then obviously when the third one rolls around, it becomes even more critical to look at how they defend against Sweden on the break because we know what happened to them in the Olympics. So I would say that's the blueprint for how all three opponents are likely to set up against the U.S.

So during that U-20 USA-Nigeria, match Alexi Lalas said something to the extent, and I'm paraphrasing here, he said to his broadcast partner, "If I was betting your money I'd bet on the United States, but if I was betting my money, I'd put it on France." And I know they're fourth in FIFA's rankings and I know they are the host country, but what is it that makes the French so dangerous heading into this summer?
So I just watched their recent outing against, they were just playing Thailand, actually I was just checking my notes on it. This team is insanely talented, and I don't think in the past … we've always said the U.S. is insanely talented and insanely deep, this is the first time that I have gone into a world championship and said that about another team. The U.S. is still insanely talented and insanely deep, but I've never said that about an opponent and I really feel that way about France. And you look at who started their match against Thailand. They went into half time at 0-0, but they just create a ton of opportunities and they are so explosive. These individuals are so quick and explosive and really, really clean on the ball. And I just don't think that I've seen that many players in the women's game on the same team have all those attributes.
They are very fluid off of one another, so if you look at the way they get numbers around the ball in possession, it makes it really fun to obviously watch it looks exciting because they can just combine and they have, I feel, like that interconnected brain where they are all on the same page. They look like they've been playing together for eons. And so I just think they are really upbeat offensively, and then defensively, they have one of the best center backs in the world in Renard and their outside backs try to look across the team, and I feel like their outside backs as well going forward, and even their backups, are so good at getting into that attacking third.
The question I have had, and I am leading into something else, but I've thought a lot about who could actually win this tournament, and you look at the U.S., we haven't been as clinical in the final third as we should have been. I look at France and I think the exact same thing, but these are both two teams that create a wealth of chances, and they are just not as efficient in the final third as they would like to be, I would think.
I just think they're such a well-rounded football team with a ton of talent. I feel like I could go through each player and I can profile them for you, but I think they have a lot of players that could step up and be a Golden Ball, Golden Boot, Silver Ball, Silver Boot contender. That is typically what we've always said about the U.S.
I think there's only one way to respond to all of that: June 28th in Paris, that quarterfinal match, USA/France. Is that the match that you think more so than basically anything else, that could be the one that determines the final?
Let's just hope we don't have that matchup in quarters because I don't want either of those two teams to be out of the World Cup after the quarters. It's just not fair to the game. So let's just start with that.
I can't … yes, we can definitely phrase it that way. Of course it's very possible, but I am very much of the mindset that when you have a massive, massive matchup on that day with those two teams of that caliber and it's been built up, I mean, we're talking about it right now as possible World Cup winners, and that's the narrative that's going on. When you have a match like that, it's the next game that proves so difficult for the team that is victorious. So I want to know, for me to go out on a limb and say, "Yeah I believe in that," I would actually need to know who is the next opponent, because I think that's where it gets really dangerous and really tricky because you have that emotional let down.
But again, I hope we don't even come to that. They're 1A and 1B in terms of being favorites.

Nice, so let's get a little bit more general. There's a group of death every single World Cup. What's the one that you're watching is the most exciting group top to bottom?
I would say A and D are the ones that I feel are going to be the most difficult to navigate. You know the history between England and Scotland, that's going to be a fantastic match up just because of the emotions involved in it. And then obviously Japan, they are a team that I think has an outside chance looking in, so they are going to be a difficult opponent. Argentina, they are just going to try to get out of that group.
I think A on the other side with France, Norway, South Korea and Nigeria, I just think that one's really interesting. South Korea, while their results haven't been firing as of late, I know their Iceland match did not go the way they wanted. I think they have a ton of talent and I do think, physically, it's hard for them to match up. It'll be hard for them to match up against France, but I think they're a team that can ask some interesting questions of them defensively. Nigeria, difficult always. They know how to play in the World Cup. And Norway, even without Ada Hegerberg is also interesting one.
You kind of just answered this a second ago, but in terms of the quality of the match, what's the final that you would most want to see?
U.S./France and I'm not opposed to a U.S./England one, either. But I don't think in terms of quality I think that one won't be as luscious for the eye, if you will. That would have you not sitting down for the whole game.

It sounds like you have your assignments for at least group play sorted out, so whether it's in group play or as you project out the matches you might do in the knockout round, what are the matches that you are looking forward to calling the most?
I think it's a toss up. France/South Korea opener because it's a host nation. It's an opener and watching this French team hum is a feast for my eyes. I just love watching them play. I'm excited to see how they start this tournament and then how they handle the pressure. And I think the other one that I'm really interested in is England/Scotland. You've got to love the back stories that are going to come out of that one, and for them to kind of kick off their tournament against each other. It's going to be a really emotionally charged game and a physical game and a warrior-type game, and Scotland is a difficult opponent for anyone, look at how organized they are defensively.
Julie Ertz actually told me when I was with her just the other day, she said, "I have never seen a team more disciplined in their tactical approach than Scotland defensively." And I just think it speaks volumes about how difficult they are going to be for England to break down, so I think it's going to be a really, really fun game. And I think they have one actually in Erin Cuthbert, the Chelsea player. She's fantastic, so she'll be someone that I'm interested to see how she handles the big stage alongside Kim Little on Scotland.
I think it's going to be a really good match up. Those would be the two games outside of the core U.S. matches that I'm most excited to call.
Last question, I've got to ask it, when it's all said and done, who've you got?
Man, this is so hard. I know I haven't really answered this yet. I think, I just don't think you can bet against the U.S.
Wild guess: in past years. has it usually been a little bit easier going with the United States and this year it's a little more tricky?
Yes. Mentally when I look at form and I look at certain aspects, I don't necessarily think they're the team that is the most well positioned to win it. Let's put it that way. But I think that the intangibles that take hold in a tournament, that's where the U.S. always separates itself, and those things matter. And of course you need a bit of luck to win the tournament. But I just think those intangibles, no one can match the U.S. in that department. Even if the other things aren't as up to, I think, performance-wise where some of the other teams may be, I just think that's what will set the U.S. apart.
(This interview has been lightly edited and condensed for clarity.)