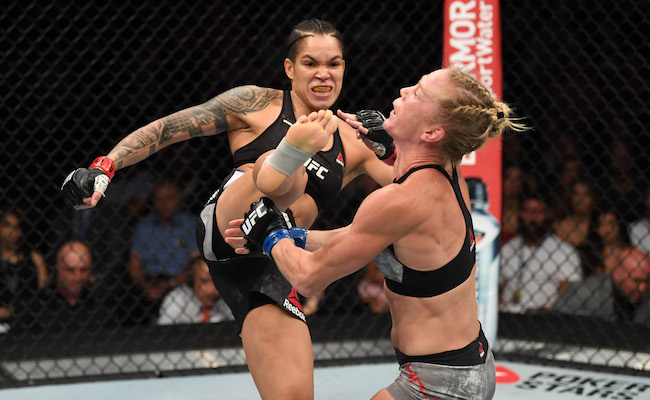 Two-division champion Amanda Nunes (18-4) knocked out Holly Holm (12-5) late in the first round to successfully defend her bantamweight crown at UFC 239 on July 6 in Las Vegas.
Holm spent much of the first round out of Nunes' range, counter-striking and chipping away at her legs. But a slight feint threw Holm off just enough for the champ to find a head kick to Holm, sending her sprawling to the ground.
A handful of shots to the face ended the night as Nunes claimed the final victim of UFC's big four women's fighters.
Holm was the final remaining of the that group for Nunes, who previously defeated legends Miesha Tate, Ronda Rousey, and Cris Cyborg in that order. In almost serendipitous fashion, Nunes's head kick to Holm was eerily similar to Holm's shocking title win over Rousey nearly four years ago, which originally set up the shakeup of the bantamweight division.
Nunes last fought Cyborg at UFC 232 in December, where she knocked out the UFC legend in the first round to become a two-division champ. She was riding an eight-fight win streak heading into the co-main event Saturday night.
Holm's last bout before Saturday's fight came in June 2018, when she defeated Megan Anderson. She underwent a subsequent knee surgery to repair her meniscus, was scheduled to fight rising star Aspen Ladd in March before that fight was unexpectedly cancelled, and eventually signed a new six-fight deal with the UFC.