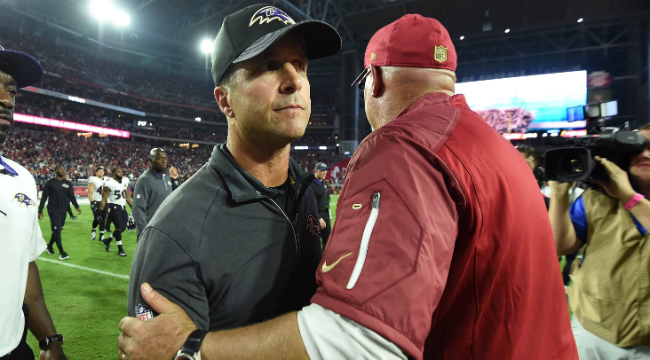 The Baltimore Ravens lost a tough one on Monday night, going down to the Arizona Cardinals, 26-18, after a comeback attempt in the final seconds fell short on a Joe Flacco interception in the end zone. And when a one-possession game comes down to the last moments like that, it's natural to look back at one or two plays that could have gone the other way and wonder what might have been.
In the Ravens' case, there were a couple of very stark examples, and they fell squarely on the shoulders of referees, who made questionable calls. The first one came on the Ravens' opening drive, when offensive lineman John Urschel caught a pass on a trick play to set up the Ravens inside the 10-yard line, only to be flagged for being an ineligible receiver. But Urschel did declare himself eligible:
So, the referees turned off either their eyes or brain on that one. Much later in the game, with the Cardinals driving up a touchdown, Cardinals running back Chris Johnson was tackled on this play by Ravens DT Brandon Williams:
He got up and kept running, as you often see after the whistle blows, but his momentum was clearly stopped. Yet the refs let him play on, and he gained 62 yards to set up a field goal that would give the Cardinals a two-possession lead. You can fault the Ravens for not playing to the whistle if you want to, but remember that the league is much more strict on late hits than it used to be. Ravens coach John Harbaugh outlined the problem:
"The forward progress was stopped," Harbaugh said. "If you hit him in that situation, then you're going to get fined and stopped. For three seconds, it was stopped. He had called himself down and was sitting there. We shouldn't hit him; it would have been a dangerous play."
The bottom line is, if you want the NFL to be safer, you have to rule plays like this dead quicker. The officials punished the Ravens for not taking potshots at the defenseless Johnson. I mean, listen to what Williams himself said about the play: "I feel like I stopped his momentum; I thought he was down. But obviously he wasn't. Next time, I've got to hit him harder and make sure he doesn't get back up."
Make sure he doesn't get back up. That's when poor refereeing can get upsetting. Even the Ravens' official Twitter account couldn't help but complain about that one:
But as always, the money quote about the affair came from Steve Smith, who hasn't slowed down much even in the final year of his career at 36. Here was his response when asked about the officiating:
Tough, but fair. Steve Smith is a good Yelp reviewer.
(Via BaltimoreRavens.com)