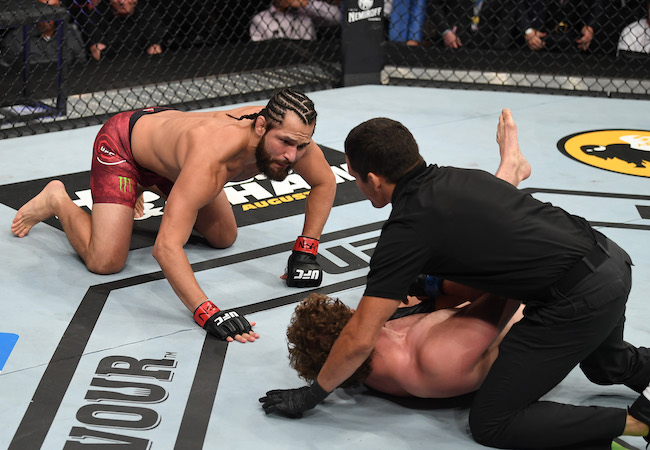 Ben Askren (19-1) tried to start Saturday night's highly-anticipated showdown at UFC 239 with Jorge Masvidal (34-13) like he had so many time in the past: with a takedown. But Masvidal had Askren well scouted and stunned the world with a devastating five-second knockout, the fastest in UFC history.
Askren opened the bout by dropping his head right, and the rising contender caught a knee to the head from Masvidal, putting him out cold.
In the buildup to their UFC tilt, Askren and Masvidal exchanged words that seemed to go beyond the normal pre-fight chatter. Masvidal discussed his genuine disdain for the unbeaten Askren and his eagerness to make him suffer. Askren didn't get too worked up with Masvidal's trash talk, instead looking right past him and toward welterweight champion Kamaru Usman.
"They're going to wait and see what happens in my fight, and if my fight goes well, and I cut a mean promo, my fight with Marty makes a whole lot more sense than Colby vs. Marty," Askren told MMA Junkie.
For now, it looks that title shot is wide open. Colby Covington, former champion Tyron Woodley or maybe just Masvidal might slide right into position while Askren is left licking his wounds.