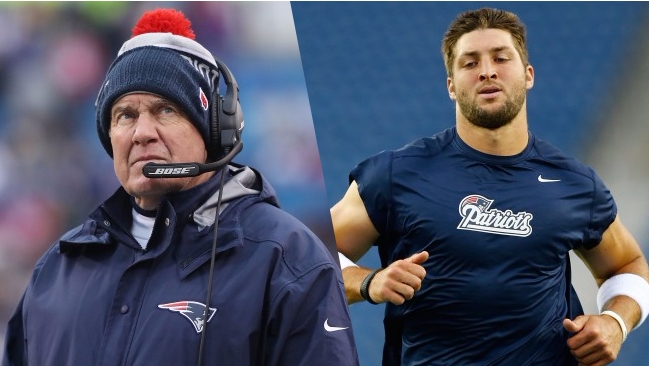 After the Jets let Tim Tebow go following what seemed like the quarterback's last ditch effort to regain his glory, he tried to catch on with the Patriots for the 2013 season. He never appeared in a game with the team, but that failure wasn't all he lost out on while in New England.
While making an appearance on Fox & Friends to promote his new book, Shaken, Tebow told the story of how he was offered a $1 million endorsement deal, but asked Belichick to sign off as a way of demonstrating his devotion.
"I didn't want to be a distraction on the team. I wanted to be just another guy in the locker room, someone that could work, someone that could be a backup to Tom, and I didn't want to be a distraction, having stuff all over the headlines, so that's why I called coach Belichick to say, 'Hey, what do you think about this? This is a great opportunity that I would say yes to, but I want to do what's right for the team first.'

"He appreciated me calling, but said, 'Hey, I would prefer if you didn't do it,' so of course I didn't, because it would put the team first. And that's not something that I look back and regret at all. It was me trying to honor the team, and if I could do it again, I would've done the same thing."
That conversation, wherein Tebow turned down millions just to ingratiate himself with the Patriots, turned out to be all for naught. Belichick cut him soon after, in a move we can only describe as Cold As Ice. Maybe Belichick wasn't sure he was going to cut Tebow days after encouraging him to turn down a cool mil, but he was obviously unsure he was going to keep him. For Bill to pull the rug out after encouraging altruistic commitment from the player whose entire personality screams altruistic commitment is classic Evil Belichick, in a way we haven't heard about in a while. We respect his villainy.
(Via Yahoo Sports)