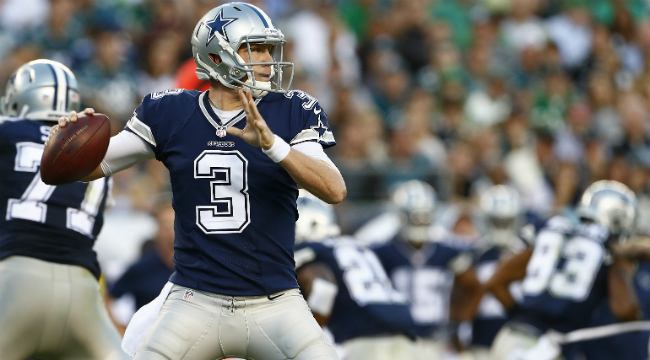 Brandon Weeden has had quite the weird season. He started as the backup to Tony Romo in Dallas, and was forced to take over duties as the starter after Romo fractured his clavicle.
Despite a rough start in terms of wins and losses, Cowboys owner Jerry Jones heaped praise on Weeden, saying you "won't find a more gifted passer" than the former Browns QB. Soon after, however, Jones had seemingly rescinded his earlier compliments, calling Weeden "limited." Not long after that, Weeden was replaced by Matt Cassel, and soon enough he was out of a job altogether.
Weeden was able to land on his feet, though, and sign with the Houston Texans, and thanks to some injuries in front of him to Brian Hoyer and T.J. Yates, Weeden played in the last two games for the Texans, including a crucial game against the Colts and led them to two victories.
Although Weeden will probably be backing up Hoyer in the Texans' playoff run, he still seemed to be pretty happy with his new team and didn't hold back about his old one when speaking to The Franchise's Steely, Jessi, Rhode and Kelly.
"Everybody here has got my back, they understand how the league works. I think they were just as shocked as I was with some of the things that maybe Jerry (Jones) or whoever was saying. It was kind of one of those things. But everybody here has my back. When it's all said and done, that's really all that matters."
When asked about the possibility of Houston going to the playoffs when Dallas will be sitting at home, Weeden didn't mince words.
"I mean yeah, absolutely. That'd be sweet. We get to play extra football and he'll be watching on his couch. That's what it's all about. We're playing for something."
The Texans still haven't technically made the playoffs yet, but they would need about nine different games to all go wrong for the Colts to sneak in ahead of them, so it's okay for Weeden to be confident. As for Jerry, well, it's probably for the best if he just lets this one go and worries about how to start fixing the Cowboys for next year.
(Via The Franchise)