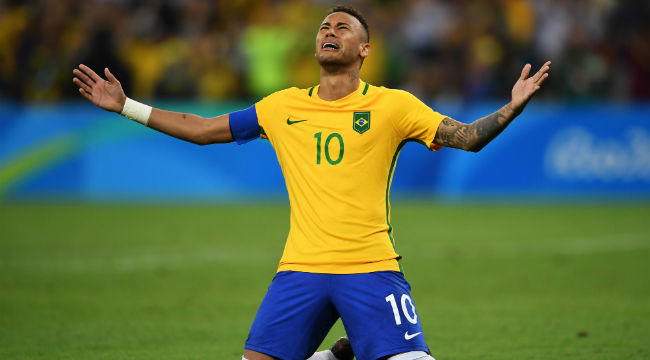 Even if you're not a soccer fan, you probably remember Germany trouncing Brazil in the semifinals of the 2014 World Cup, 7-1. It was one of the most unforgettable matches in soccer history, as the Brazilians were beaten down on their home soil in a way that you never expect to see in the semifinals of the World Cup.
There were plenty of reasons why Brazil lost, including the fact that its star forward, Neymar, was out of the match due to an injury. On Saturday, the two sides met again in the gold medal match at the Rio Olympics. They were tied 1-1 after 120 minutes, and Brazil managed to take Germany down on penalty kicks, 5-4. While Brazil supporters will always have a sour taste in their mouths after the way the 2014 World Cup ended, this was as close to redemption as the team could achieve for now.
With the win, Brazil took home its first-ever Olympic gold medal. Plenty of people on the internet was excited, because Brazil – a place which came under so much scrutiny during the lead-up to the 2016 Games – took the first step towards exercising a pretty vicious demon.
Someone even got a video of the final PK from the stands, and the second it hit the back of the net, everyone in the stadium lost their minds.
The man in that video burying the final shot was Neymar. He was held until the fifth PK, and in a storybook ending, Brazil's captain stepped up and buried his opportunity.
Some people weren't as happy as others. Despite this win, Brazil still lost 7-1 in a World Cup semifinal. Additionally, the Olympics has rules regarding which players can go, so each country can only bring along a maximum of three players who are older than 23. It all added up to a number of folks trying to rain on Brazil's parade.
Despite this, it's easy to see how much this win meant for the Brazilians. It was a great match, and even if it wasn't in a tournament that's as big as the World Cup, it still meant the world to the people of Brazil. In the end, that's all that matters.