Brett Favre might have retired in 2010, but the NFL Hall of Famer is still hard to miss on Sundays during the NFL season. Whether he's talking to you about razors, Wrangler jeans, Buffalo Wild Wings or some other product, the ol' gunslinger from Mississippi has become one of the most sought after athletes for endorsement deals.
Favre will be the first to tell you that even he isn't sure how he became pitchman extraordinaire. When he retired, Favre was the NFL's career record-holder for passing touchdowns, passing yards, passing attempts and passing interceptions (he's since been passed in touchdowns and yards by Peyton Manning), but he's remained in the conscience of football fans through those commercial spots.
Favre spoke with UPROXX Sports this week about his career as a commercial actor, being willing to have fun at his own expense, thoughts on the Super Bowl matchup between the Atlanta Falcons and New England Patriots, Matt Ryan's MVP season, the hardest thing about playing quarterback late into your 30s and more.
If you'd told yourself 20-plus years ago that you'd become one of the go-to guys for commercials and endorsement deals would you have believed it?
Absolutely not. I still pinch myself, not that I'm out in commercials speaking. Because people may think that and I'm not. And that in itself is even more reason to say no. I would never have thought that. And going to play in Green Bay. From the outside looking in, from a marketing standpoint, not your best place to enhance your acting or commercial or marketing future. But, man, as I like to say, who would've thunk it. What an amazing career on the field and what it's led to off the field. Just extremely thankful.
Do you remember what your first ad or endorsement deal was?
Oh boy. Honestly that's the first time I've ever been asked that and I don't know. I really don't know. I'm going to guess probably a Nike spot, back when Nike actually used football players in spots. Or maybe some local Wisconsin spot. I'm just not sure. I should know that, but I don't.
How would you say your acting has improved over the years from those first spots?
You know, I'm going to say it's gotten better, but by no means am I going to win any awards any time soon. I do remember when I shot Something About Mary, that was right after we had won the Super Bowl in 96/97. So you're looking at 20 years of getting better and learning the tricks of the trade, but I still don't feel that comfortable with it. It's not what I was born to do, it just sort of happened. But I have learned that if you want to shorten the shoot you just suck it up and act a certain way, because in the end the film, the commercial or whatever, it's never as bad as it may seem like when you're shooting it. You'll be like, 'aw man I feel such like an idiot when I do this or say that,' but when you watch it you go, 'oh, okay, now it makes sense.' So you just learn to go with the flow and otherwise it'll take forever. I think I've gotten better in that regard.
It seems like, for the most part across all of your ads, you just get to be you. Is that something that you look for is that your personality gets to stay the same?
Yeah, I think that's why, and maybe I'm wrong, I think that's why someone calls and says, 'hey would you be interested in doing a commercial for Buffalo Wild Wings.' They want what you are and not something different or they wouldn't call you. It's like this campaign poking fun at myself and having a little fun with the fact that I did play a little crazy or off the cuff a little bit. And in some respects that's what this commercial is sort of alluding to, except that they had, Buffalo Wild Wings that is, had a hand in altering my play.
So, like Wrangler and others that I've shot over the years it really has been me, and I think people can equate that. They equate the player or the person with the product and I think that is so essential. Sometimes teams get it wrong. Sometimes these companies get it wrong with who they want to shoot the ad with, so we'll see how this one will be received, but I think being myself is what Buffalo Wild Wings and others would want from me.
What was the conversation like in coming up with this campaign and have you learned to embrace poking some fun at yourself?
I learned a long time ago the old saying, 'have thick skin.' Otherwise, I would be tormented. Because no one is ever going to completely win everyone over. There are always going to be people that say 'yeah, but he did this' or 'he did that.' Honestly, I don't pay attention to what people say good or bad. Maybe there was a time in my career when I did, and so I always figured I'm always better off poking fun at myself before others do. Because it loses its sting when you show that you're open to criticism or even poking fun at yourself in a comical way, which I am. It sure makes life a lot easier. So, when we talked about this ad I think my biggest thought was will people get it and will it go over well. I had no problem with the fact that I would be the butt of the joke, if you will. That was the least of my concern.
I have to ask, what is your go-to wing flavor?
I'm a sweet BBQ guy. There's all kinds of different flavors that you can think of, but I'm just kind of a traditional, kind of like my ribs or southern cuisine, I like a little spice but keep it simple.
I do want to talk a little Super Bowl. What are your thoughts on this quarterback matchup between Matt Ryan and Tom Brady?
I think what they've both done has been outstanding and their play has been outstanding, and that's why they're both here. From Tom Brady, we're not surprised because he seems to do it year in and year out. Just a tremendous player and leader again and again and again to a point where it almost bores you. But Matt Ryan had this thing looming over him that until he gets to the big game he's going to be a 'yeah, but' guy.
I thought he responded this year week in and week out worthy of being the MVP, and the bigger the game the bigger he's played.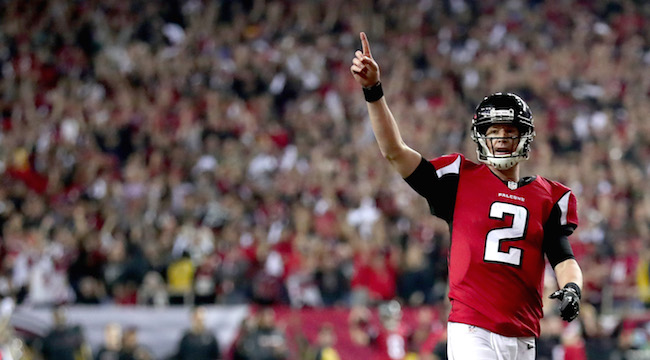 The question is will that continue this week. I'd say up to this point they're the hottest team of late. And going against Bill Belichick having two weeks to prepare for you, it'll be tough. You know, if Matt Ryan continues to play as well as he has, as well as the rest of the offense, a lot of points will be scored and it'll be tough for New England to beat them. But I think if anyone can win against any opponent it's New England with Tom Brady and Bill Belichick. So I think this is one of the most interesting matchups in recent memory.
Were you surprised at all at how easily it seemed the Falcons handled the Packers in the NFC title game?
Yeah I was. I felt like Green Bay was really hot, which they were. I thought offensively that they may not score every time, but they'd be super productive, which they were. Although the production in the game against Atlanta was after the fact, and that surprised me a little bit. They couldn't match Atlanta, but then when you look at the way Atlanta played there really was no matching them because they were scoring every time they got the ball. That surprised me a little bit because I felt like Green Bay's defense was playing at a higher level than they played in that game. Though in saying that I give a tremendous amount of credit to Atlanta, because you can't really take away from Green Bay you have to hand it to Atlanta, they did what they had to do and then some.
You were someone that had success into your late 30s and into your 40s, as Tom Brady is approaching now, can you give us an idea of how hard the preparation is week-to-week at that point in your career just to get to game day?
The tough thing about the latter part of your career is that you demand so much of yourself. With each game, with each week, with each year, the expectation levels that you place on yourself are at a premium plus. So, the better you play the more you expect of yourself to the point where it almost becomes impossible to live up to your own expectations. And Tom has been able to continue that rise week in and week out.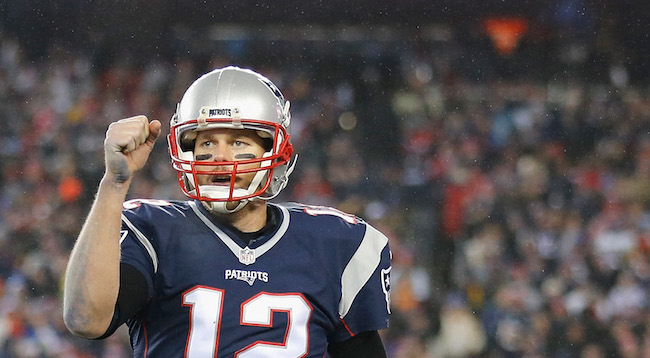 But the tough thing is to get up and challenge yourself and go through the monotony of the daily grind. To me that was the tough part. Physically, yeah you feel things more so than you did as a younger player and they stick with you a little bit longer. So an ailment that maybe took two days to get over may be two weeks. And that's a struggle in itself, but I think the mental struggle with the demands of the media and being Tom Brady and living up to these expectations and being a certain way at practice and being a certain way at meetings. It wears on you. And I commend him, because he has handled all of those things as well as you can and that's been obvious as he's lead this team again into the Super Bowl. So, he's been able to manage it and manage it as well as anyone has ever done it and my hat's off to him.
With Matt Ryan going into his first Super Bowl, can you think back and give us an idea of what that first Super Bowl is like as the starting quarterback with the kind of circus that goes around. How shocking is it when you first get into that and how does it change when you've done it a few times?
You know, it changes because you know what to expect and you know how to handle it. I don't want to say it's old hat, but you learn to really set that aside and focus on what's most important and that's the game. And that would seem like an easy thing to do from the outside looking in, but Super Bowl week has nothing to do with preparation as you would typically do for a game. You would prepare for that game that week.
The Super Bowl is different because you really prepare the week before and then you really prepare for a circus that's ahead of you. So I'm sure Dan Quinn has said this over and over again, and not only to Matt Ryan but his team, is 'the most important thing we're here to do is win this game and don't ever lose focus of that.' It's easy to lose that focus when your obligations are otherwise, taking away from the game. Even though you're sort of talking about the game, it's so far out of the daily routine of what normally you're used to that it can be a distraction. So being able to focus on what's most important becomes harder than people would think it would be. It will be interesting to see, as it always is, for a younger team how they handle that.
Finally, what is your prediction for Sunday night in Houston?
I think it's going to be a great game. I'm reluctant to say one team will win, but if I had to give the edge to either team it'd be New England. Because I think both teams are playing at a high level, and it's a toss up, so being in my mind that it's a toss up I have to give the edge to Bill Belichick and Tom Brady because they've been there.