Late in the 1991 season, both the Green Bay Packers and Brett Favre had lost their way. Favre was a rookie backup quarterback on the Atlanta Falcons, whose head coach Jerry Glanville once famously said it would take a "plane crash" to get him in the game. The Packers were finishing up a season in which they'd finish 4-12, and 20 years in which they had a winning record exactly one time. Both of them needed a little saving, and in honor of Favre's 47th birthday tomorrow, we're going to remember how they found salvation together.
In the spring of 1991, Ron Wolf was an assistant in the New York Jets front office, and he had become smitten with the cannon-armed kid from Southern Mississippi. He had Brett Favre as the number one player on his board, but the Jets didn't have a first-round pick. Even though Favre fell into the second round, Wolf couldn't swing a deal to trade up for Favre before the Falcons nabbed him at the 33rd pick. The problem was, their coach wanted nothing to do with him.
Despite Glanville's plane-crash comment (which, yeesh), Favre did see a tiny bit of game action in '91 — against the 10-0 and eventual Super Bowl champion Washington Redskins:
He didn't look great, but few QB's did against Washington that season. His performance wasn't the problem, however. Favre had developed a reputation as a partier, and it got worse in the nightclub heaven that was and is Atlanta. Favre (who once said he drank himself out of Atlanta) had been late to practices and meetings, and it was untenable. Glanville put it in stark terms in a 2010 interview:
"I had to get him out of Atlanta. . . . I could not sober him up," Glanville said. "I sent him to a city where at 9:00 at night the only thing that's open is Chili Joes. You can get it two ways, with or without onions. And that's what made Brett Favre make a comeback, was going to a town that closed down. If I would have traded him to New York, nobody to this day would have known who Brett Favre ever was."
That sleepy city was Green Bay, where Ron Wolf had just caught on as the general manager of the Packers. He still believed in Favre, and seeing the QB warm up before Green Bay's game against Atlanta on Dec. 1, 1991, only deepened his belief about the kid's talent. In early February, just after the season ended, Wolf pulled the trigger, dealing the 18th overall pick to Atlanta for Favre. He traded a first-round pick for a QB with two interceptions in four career pass attempts, who hadn't even been picked in the first round the year before.
It was a bold, not-all-that-popular move, one primarily made because quarterback Rick Mirer, a can't-miss prospect from Notre Dame, decided to stay in school an extra year. Wolf, armed with the fifth overall pick, didn't like any of the QBs left on the board for the 1992 more than Favre. He passed up on such legends as David Klingler and Casey Weldon. He also toyed with the idea of trading for Steve Young, who at 30 still hadn't yet risen to superstardom. The Packers ultimately decided to go young (but not Young), with Wolf saying at the time, "I think we've got a future here in this guy."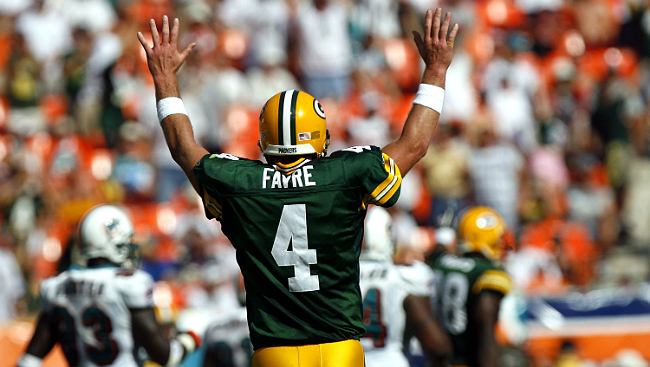 After incumbent starter Don Majkowski was hurt in the 1992 season, the future arrived, and stayed for 16 years. Even after two twilight seasons with the Jets and the Vikings, it's still difficult to imagine Favre in any uniform but the green and yellow of the sleepy town in Wisconsin that closed down too early for him to drink his way out of a job. By the time Favre actually made it to the Jets, that couldn't nab him during the 1991 draft, his reputation as a partier who could destroy his own career was long past, replaced by his legacy as an all-time great.
The Packers avoided the misery of the 1992 rookie quarterbacks (as well as Mirer), and Wolf is well aware of just how much the Packers needed Favre.
"Anytime a franchise gets a player like Brett Favre, that's rare," Wolf said. "Just think about what he did, changing that organization from a loser to a winner. In all my years — I spent 38 years in the NFL — I've never been around a player who did for a team what Brett did for the Packers."
Since Brett Favre became BRETT FAVRE, the Packers have been one of the marquee franchises in the NFL. Before then, their image was closer to that of the Cleveland Browns, whose glory days were decades in the past. But in the early '90s, at least the Browns had recent, if Elway-ruined, postseason runs. Green Bay needed a savior, and Favre needed a place that only served chili after 9 p.m. They were perfect for each other.
This is an updated version of a story that ran on October 9, 2015