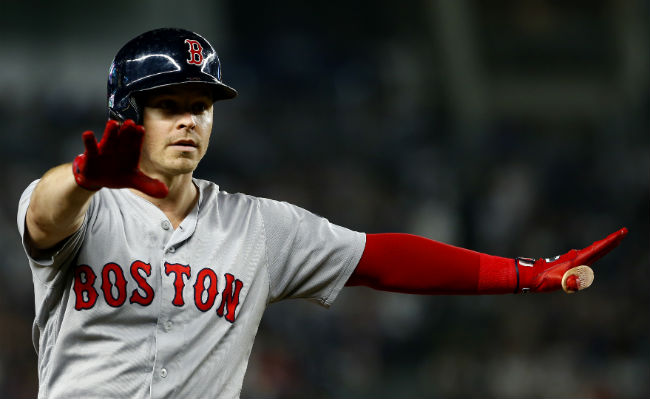 After two tense games between the New York Yankees and Boston Red Sox we got a laugher in the Bronx for Game 3. Unfortunately for Yankees fans, the laughs came at their expense and mostly at the hands of Brock Holt.
The Red Sox utility player was inserted into the Game 3 lineup and he basically exploded, hitting the first-ever postseason cycle in a 16-1 blowout that gave Boston a 2-1 series lead. The most ridiculous moment came when Holt completed the cycle with a 2-run home run off Austin Romine, who does play for the New York Yankees but is not actually a pitcher.
Holt clubbed the 13th pitch of Romine's ninth inning to the short porch in Yankee Stadium's right field to complete an epic night where he hit a single, double, triple and home run in six plate appearances.
Holt hadn't played in a week but had 5 RBIs himself, more than enough to beat the Yankees offense on its own thanks to an outstanding seven innings from Red Sox starter Nathan Eovaldi.
The final two runs of the game were essentially meaningless, but that was only because Holt had come up with huge hits throughout the night to give the Red Sox an early and later commanding lead. His single in the fourth inning set up a huge inning for the Red Sox, and helped chase Yankees starter Luis Severino. Holt would score on a walk, but the Sox batted around and allowed Holt to hit a 2-run triple to make it 10-0.
From there, Yankee Stadium slowly emptied and the game slipped further and further into weirdness.
Holt stayed in the game while the Red Sox gave some lesser players some rare postseason at-bats. But when Romine came into the game to pitch for the Yankees — just the second ever position player to throw from the mound in postseason history — Holt got a chance to make history of his own.
"That was a fun night," Holt said after the game before he got a Gatorade bath from his teammates while interviewed on the TBS broadcast.

The Boston win was not only New York's worst loss in postseason history, but it was the largest postseason margin of victory in the two teams' histories.
Even more jarring than the 19-8 final in Game 3 that gave the Yankees a commanding 3-0 lead in the 2004 ALCS. We all know what happened after that game, and anything can happen in a 5-game series with a quick turnaround, but it was a night to remember for Red Sox in Yankee Stadium on Monday night. Especially for Brock Holt.