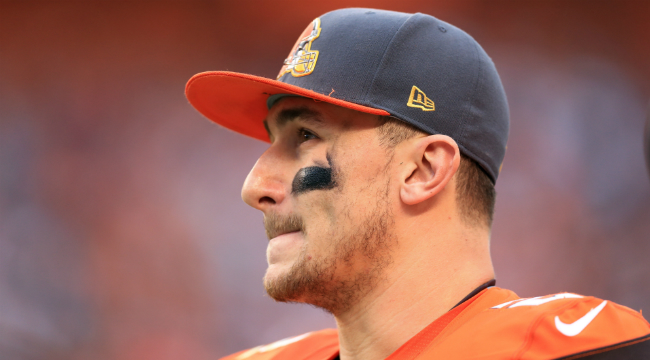 As the story of Johnny Manziel and his alcoholism continues to develop and darken with violence, the circle of people defending and protecting him continues to shrink. As that happens, more details are emerging of Manziel's actions during his troubled 2015 season. The latest, apparently leaked by a Cleveland Browns player to NFL.com's Michael Silver, claims that the Browns made up that Johnny Manziel had a concussion to cover for him showing up drunk to a practice.
Manziel was ruled out for Week 17's game against the Pittsburgh Steelers when the Browns said he arrived at practice on Wednesday complaining of concussion symptoms, apparently from the previous Sunday's game. If this proves true, it could come with some penalty from the NFL, but it's not remotely the most concerning thing about the report.
The Browns apparently were more concerned with either Manziel's image or their own than getting him the help he needed for his alcoholism. He had been in rehab that very offseason and, if he indeed showed up intoxicated at work, then the medically sound decision would have been to get him treatment immediately. You could argue that the Browns were doing this at Manziel's request or for his reputation if you wanted to be charitable, but it still wouldn't mean the Browns had his best interest at heart.
If this report from a senior journalist on the NFL's own website is true, then the support structure that was supposed to have been around Manziel not only failed him, but also Colleen Crowley, who perhaps unwittingly entered a room with a man with untreated mental-health problems. It could be one of the lowest moments of the Browns franchise's existence.
(Via NFL.com)