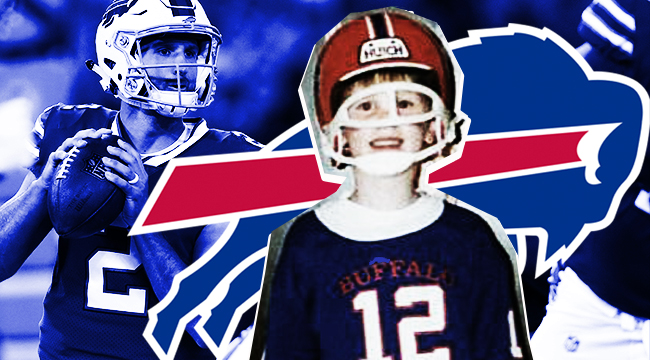 There's a photo of myself and my mother that I love dearly, except for the hurt it causes when I think of how far from that snapshot I am today. In the picture, we're at Rich Stadium in Orchard Park, New York, on a chilly Sunday sometime in the mid-1990s. The photo is undated, but we're at a Buffalo Bills game. Decent seats, too. Lower bowl a few rows from the field.
It was an experience I never took lightly, even though the good times of that Bills era were officially over. The photo is an extremely accurate snapshot of Bills games in the 1990s. We're both wearing Bills sweatshirts, mine is white while my mom is wearing one from Super Bowl XXVIII, the Bills second consecutive loss to the Cowboys in their fourth straight Super Bowl appearance.
But there is no sign of sadness in the photo at all, save for the woman in Bills sweatpants and a sweater who appears to be booing in the background. There couldn't have been anything happening on the field, though, because my father is behind the camera and I am smiling for it along with my mother. Were it happening, all three of us would be watching the game.
Instead, my mom appears to be squishing the life out of me. She's grabbing my shoulder with such affection that I can't keep my eyes open while the shutter clicks open and closes. There's a warmth that washes over me when I think of that photo. I can feel her love and remember family tailgates at the stadium when the Bills were in the playoffs every winter. I loved Jim Kelly growing up, and in my childhood I learned to love football through my family.
Those experiences shaped me in so many ways, which is why the lingering sadness comes when I see that picture in the present. The way I once watched the Bills is gone now and it's not coming back. In fact, the further I get away from those snapshots, the more I realize how much has changed.
So much of my history with that team is filled with heartbreak, and recently I've been reliving it as sort of a pet project over the last nine months. On my old blog, a friend and I are recording a podcast episode for every game the Bills have played since they last made the playoffs. It's an exercise in masochism that's turned into a surprisingly fun experience.
Part of that is just because I like talking to Corey. We've done it long enough that we know how to make it entertaining and create meaningful narratives out of all the losing. But now that we're (hopefully) more than halfway through the DroughtCast I've realized that it's also taught me a lot about the Bills I had forgotten over the last 17 years and counting.

So much of what's wrong with the Bills is cyclical. The problems of finding the right quarterback and head coach have always been there throughout the Drought. But the truth is the franchise cratered because their owner — Ralph Wilson — got old. As he slowly died the organization atrophied with him, and no one working there knew how to handle it. Time marched on, people were promoted beyond their abilities and bad hires were replaced by worse ones. The franchise became rudderless.
It's created a team chasing its past and overcorrecting mistakes, a franchise stuck in a rut and unprepared to make the decisions necessary to get out. There's a few hundred hours of audio that can explain this in greater detail if you need it, but trust me on this: the Bills deserve where they're at right now. They've earned it every miserable season they've played since they kicked a field goal on first down and let the Music City Miracle happen.
In the interviews I've done with Uproxx over the last few months, I've asked athletes and coaches how teams get stuck like this. Former Bill Terrell Owens talked about creating a "winning environment and culture" in Buffalo, which he said is difficult to do without the right coaching staff and management. Adam Schefter thinks that coaching staff and culture might be in place with new head coach Sean McDermott and general manager Brandon Beane, but it's far too early to know.
"It's been so long that people in Buffalo — they're hopeful, but they're also skeptical," Schefter said. "It's been such a drought and they've been so depressing. But I think they put people into place that give them a chance now."
The Bills do have a chance, but it's been so long since they've even been close to relevant that it's difficult to feel optimistic. For every positive platitude about "trusting the process" from a new regime intent on ripping the team down to the studs and starting over, there are flashes of Gregg Williams and Doug Marrone's initial goodwill. Those guys said all the right things, too, yet here we are.

There are blindly optimistic Bills fans out there, bless their hearts, but the losing weighs so heavy on this franchise. No one in charge understands what 17 years of losing feels like. Not even the owner, Terry Pegula, who has only been around for three years. There's a learning curve to owning an NFL franchise, and it's only cost Bills fans more time. For many, it's time they're running short on. Throwing away a season, even for the right reasons, only makes the weight that much harder to bear.
The Bills played their last postseason game in 1999, Since then I've gone through elementary, middle and high school, graduated college and become a writer and journalist. I even had a five-year detour in children's publishing. I've grown up, and the way I feel about sports is different now. It happens to everyone when they get older. The way I experience the Bills now is so jarringly different from that photo, and it's just about the only way I can imagine being interested in them anymore. I'm technically not a fan these days: I cover games as a member of the media.
I think it's safe to talk about my fandom because we no longer need to live in a black and white world where journalists pretend they haven't loved sports their entire lives. Or at least they used to love sports. Some of them even liked your team, but after existing between those two worlds for more than a decade I can tell you I absolutely know how beat writers and other journalists lose their love of the game. Especially when they cover a team as bad as the Bills.
Pro football — and Bills football in particular — is a difficult slog entering year 18 of the period we almost affectionally call The Drought. I can honestly say I wouldn't attend a Bills home game this year if I weren't getting paid to do so. When the game is boring and the commercial breaks drag I can check in on other games, grab another can of Diet Coke or adjust my tie in the bathroom. There's never a line.

I don't miss the long day of tailgating. I don't miss sobering up waiting in stadium traffic, or fighting off the Monday morning fatigue that comes from standing out in the bitter cold for hours the day before. Football used to be fun, but my interest in the sport has changed, too. Many fans and broadcasters can no longer enjoy big hits we now know for a fact are causing devastating, permanent damage to the players involved. The league's issues with player conduct makes it hard to even like big plays anymore.
There are people out there who can watch the NFL without moral conflict about the sport's safety or the nagging feeling that their team is slowly killing the ones they love. They don't worry about stadium financing deals that take away school funding or badly-needed infrastructure projects from the cities these teams call home. I just know I can't be that person anymore.
And I know I'm not alone. So many of the people whose opinions I trust about this team just can't get up for this Bills season, which makes me realize it's more than just my journalistic view of the Bills that's turned me off here. It's all of it. The losing and the greater understanding of how the world works. And yes, it's eventually just growing the hell up. In a lot of ways, football just isn't fun anymore. It's an obligation. A socially expected task to be completed. A box to check or a rite of passage to endure.
I honestly don't know when the Bills' playoff drought ends. I'd be very surprised if it were this season. It might go 20 years. Maybe longer. We've joked about making jersey patches or shirseys with the most irrelevant Bills players we've seen during the Drought to celebrate. What I do know is that I'll be watching when this stupid team finally figures it out. At this point, I'm pot committed. There are too many people I love that still love this team.
As different as football is today, it's still something that matters to the people that mean the most in my life. Entropy rules all and death spares no one, but I will outlive the Buffalo Bills.
At least I hope so, anyway.