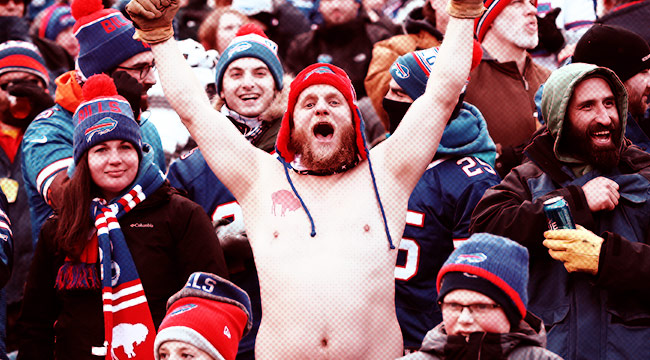 BUFFALO — The Buffalo Bills occupy a unique position in the National Football League. Though never actually the worst team in the league, for nearly two decades they've appeared to be the most hopeless.
A league is allowed to have multiple laughingstocks, and the NFL has plenty. The Cleveland Browns clinched the No. 1 pick in the draft by losing to Pittsburgh in overtime on Sunday, successfully avoiding a two-game winning streak that might have given the San Francisco 49ers the top pick. That same 49ers team fired head coach Chip Kelly after one season. They also fired general manager Trent Baalke because, as 49ers owner Jed York said, you can't fire an owner.
Look around at some championship-less franchises and you'll notice the Jaguars also need a new coach, and the Detroit Lions hilariously backed into the playoffs with three straight losses. But let's take another look at the Lions, forever an NFL laughingstock.
Right. There it is.
The Buffalo Bills are uniquely terrible because they've somehow never been decent enough to stumble into the postseason or bad enough to draft well and bounce back in a big way. They haven't made the playoffs in 17 seasons now, the NFL's longest active streak. The Bills' complete organizational failure is so commonplace that local Buffalo sports radio hosts can predict how the season will go before the schedule is even released.
But the 2016 season was full of weirdness that can't be matched since the Music City Miracle, which happens to be Buffalo's last playoff appearance. I'll try to be brief. Buffalo fired offensive coordinator Greg Roman two weeks into the season after a Thursday Night Football game in which the offense scored 31 points and the defense was hideously exposed by Ryan Fitzpatrick. Running backs coach Anthony Lynn took over the playcalling duties. He's currently the team's interim head coach. But more on that later.
The Bills hilariously had Reggie Bush on the roster, who became the first player since the merger to have 10+ carries and finish with negative yardage. The Bills briefly lured Percy Harvin out of retirement. He had two catches in two games. Hell, even that guy from Real Housewives of Atlanta was briefly on the team.

And let's explore all the different ways the Bills' playoff hopes died this year. Was it in Week 13 when the Bills blew a 24-9 third quarter lead at Oakland? The next week, Buffalo was all but killed off when they lost by seven at home to Pittsburgh. But what about giving up two 200-yard rushing days to Miami's Jay Ajayi? The latter of those was also at home, on Christmas Eve with a sliver of a playoff hope remaining.
That was the real end of the season, a 34-31 overtime game where Tyrod Taylor finished a go-ahead touchdown on fourth and goal with 1:20 left. Miami drove the field to tie it with a 55-yard field goal to force overtime, where Rex Ryan punted on 4th and "a long two" from Buffalo's 41 with 4:09 left in a game Buffalo desperately needed to win.
Out of all the baffling things about that game, what confused me the most is why anyone would even bother to attend a game in 35-degree weather in rainy, muddy Orchard Park, New York on Christmas Eve just to see a lame duck coach punt away his team's feeble playoff chances. The last time I attended a game that damp and depressing, a friend spent the holiday in the emergency room with ringworm.
At this point it's not the fame-hungry daredevils crashing through tables that I don't understand. Those are bored drunks looking for clicks. The real mystery is why anyone would actually think the Bills can get better. Who still has hope for this team after 17 years of failure?
"I still believe," a Santa-suit clad David DeKay said in the fieldhouse lot on Christmas Eve before the game. "You have to until the end."
DeKay drove with his aunt, Sue Segar, more than three hours from Binghamton, New York. She, too, said hope springs eternal even in the dead of winter in Buffalo.
"We lived through the four Super Bowls and no wins," Segar said. "If we lived through that we can live through everything."

Others have embraced the hopelessness of the current situation and are trying to make the best of it.
"This is my Christmas present to my nephew," said Bob Vail, pointing him out among a group of a half-dozen Bills fans in his group. "And they hate me for it."
Vail was one of four people wearing a "Buffalo Bills Stanley Cup Champions" banner as a cape outside the stadium. The knockoff sports merchandise is particularly morbid considering the Stanley Cup is the trophy given to the NHL champions — a title the city's Sabres haven't won in the franchise's 46-year history, either.

Vail said the banners were about six bucks online, which is what his Christmas gift was worth on the secondary market by kickoff.
"I bought (the tickets) in August when they were full price," Vail said. "I thought they were going to make the playoffs. We try to pick a game that means something, so we thought this would be the game. Don't pick the stocks I pick, that's all I have to say."
Despite the circumstances and the gallows humor, Vail and his family looked like they were having fun.
"This is the Bills, we're used to it. You get used to it," Vail said. "You're disappointed, but you get over it and it's still our team and you get to see NFL football."
Others were more charitable with their tickets. I saw one guy in front of the main gate just giving away tickets about an hour before the game. The man said he has 25 season tickets and charters a bus from central New York for each game, but the people he brought on Christmas Eve already had tickets. Clad in a snowman hat, he and three friends handed out 21 tickets to strangers before going inside to watch the Bills lose at a half-full New Era Field.
Following that Christmas Eve loss, Rex Ryan was finally fired. Not after the game, but three days later, on a Tuesday morning after he had already named Taylor his starting quarterback. Lynn took over and Taylor was promptly benched, a move described as a "business decision" by the interim head coach who later admitted he "wasn't in the room" where that business decision was made.

Taylor didn't dress for the season finale in New York, an embarrassing 30-10 loss to the Jets where Buffalo gave up a touchdown on a kickoff because everyone on special teams forgot to pick up the football in the end zone. Sammy Watkins and LeSean McCoy, who did play, got injured in the loss.
The next day, GM Doug Whaley finally held a 40-minute press conference. It was an outright disaster in which he admitted, among other things, that:
Whaley was not involved in the decision to fire Rex Ryan
Whaley also did not make the decision to hire Ryan in the first place
Ryan somehow got to pick Anthony Lynn as interim Bills coach
Whaley never bothered to ask owners why Ryan was fired
Whaley does not know what team president Russ Brandon actually does
Brandon, of course, is the marketing guy who actually served as de facto GM for a time despite his only real qualification being that he appeared in the Kevin Costner film Draft Day. Multiple reporters had to ask — both during the press conference and afterward — what exactly Doug Whaley does as general manager of the Bills. At this point, the org chart of the Bills front office is a pair of earbuds you've had in your gym bag the last two years.
Terry Pegula did grant an interview to The Associated Press writer John Wawrow shortly after Whaley's baffling presser. He sort of explains why Rex Ryan was fired and stressed the organization isn't cratering into oblivion.
"There's no dysfunction," Pegula said. "Everybody is on the same page. We're busy busting our asses."
It's a lovely sentiment, but to anyone outside of One Bills Drive the team is a complete disaster. And there's now little hope that things will actually improve. Buffalo picks 10th in the draft. They look to be starting over at quarterback, need an overhaul on defense and seem unlikely to lure a compelling head coaching candidate away from the growing list of suitors with better ownership and scouting and personnel.
And yet, there are those that still hope. Local television cameras actually filmed fans standing out in the Orchard Park cold on Monday waiting to talk to players and thank them for their efforts this season. It's heartwarming, sure, but it's a level of optimism felt by few in Western New York.
For years, fans worried that the death of team founder and owner Ralph Wilson would mark the beginning of the end of the Bills in Buffalo. Terry Pegula's purchase of the team in 2014 solved that problem. But now the real issue this team has can't be solved with money: winning.
Buffalo is still glad to be stuck with the Bills. The problem is the Bills can't get out of their own way and win.