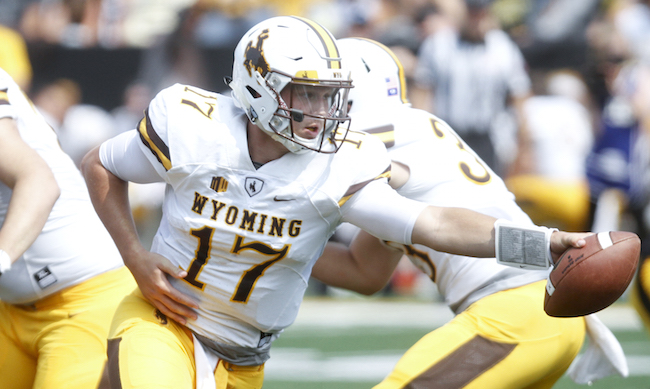 Every NFL Draft seems to have one team make a draft day trade to move up and acquire the guy they believe can become their franchise quarterback. This year, that team is the Buffalo Bills, which moved up from No. 12 to No. 7 to pick Josh Allen from the University of Wyoming.
The Bills made the trade with the Tampa Bay Buccaneers, and parted ways with a pair of second round picks this year (Nos. 53 and 56) in addition with the No. 12. In exchange, they moved up into the top-10 to take Allen, who fell a bit on draft night. He was expected to go right at the top of the draft, but with the Cleveland Browns taking Baker Mayfield and the New York Jets selecting Sam Darnold, the teams with quarterback needs in the top-5 went elsewhere.
Allen is a somewhat controversial selection. He's a tremendous athlete despite standing at nearly 6'5, and boasts the strongest arm that this draft possesses. The issue is that there are serious questions about Allen's accuracy, along with a series of insensitive tweets that were unearth one day before the draft. There's also a debate about whether he has unearthed potential, or whether he is what he is at this point.
If the answer is the former, it's possible Buffalo got a quarterback who can be the face of that franchise for the next decade. If it's the latter? Well, the Bills might have to circle the wagons in the not-too-distant future.