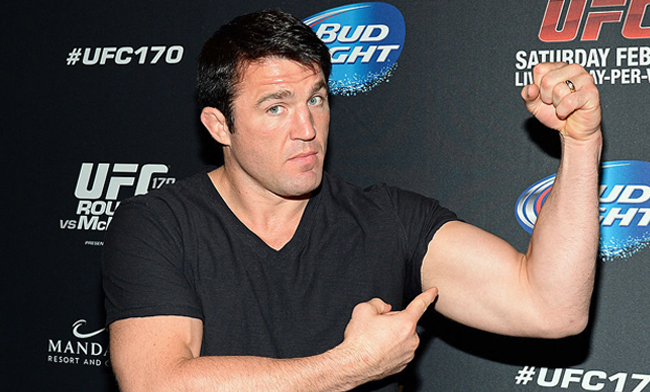 Seven years. It's been seven years since Chael Sonnen started his career-defining feud with Anderson Silva and almost the entire country of Brazil. Now, on June 24th in Madison Square Garden, the everlasting beef that came from his two Anderson Silva fights will finally (hopefully) come to an end when Chael Sonnen takes on Wanderlei Silva in the main event of Bellator 180, Bellator's second-ever PPV. Possibly named "The Grudge" or something.
It can't be understated that Wanderlei Silva and Sonnen have been feuding since those golden days of 2010 and 2011 in MMA. The UFC tried to cash in on the very real hatred — the two mortal enemies were supposed to fight after coaching TUF: Brazil 3 in 2014, but Chael popped for steroids, and Silva literally ran away from a drug test and both men basically retired.
For a while, MMA fans thought this is the closest we'd get to these two actually locking horns.

Now they're free from their UFC contracts, and we just saw Chael get tapped rather quickly by Tito Ortiz in Bellator, and Silva was set to rematch old rival Mirko Cro Cop in Rizen at the end of 2016. Silva got injured and had to pull out of that fight, but right now, the legends are seemingly as healthy as two old vets can be, and are finally settling the grudge match.
Remember these days?
This fight is coming three or four years too late, but hell — Chael, Wanderlei, Madison Square Garden… The lead up will probably be better than the fight itself.
<!–pagetitle:–>
And keep in mind Bellator just signed Ryan Bader, so we'll probably get a Bader/Phil Davis rematch for the Bellator light heavyweight belt, and maybe even Fedor?
After Matt Mitrione was pulled from his bout with Fedor, Bellator's President Scott Coker said Fedor would possibly fight again in June. So, here we are. We know Fedor loves New York. This makes sense. This could be a huge PPV. One that contends with the UFC's lackluster product of late.