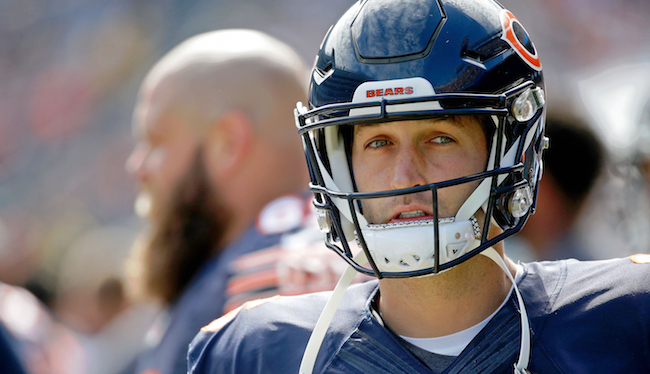 Jay Cutler is no stranger to criticism. The Chicago Bears veteran quarterback has shouldered his fair share of blame since entering the NFL in 2006, but even this might be a new one; he's now taking heat from dead people.
Chicago resident Elizabeth Bowman died recently and, according to her obituary published in the Chicago Tribune, she did not care for Cutler one bit.
Elizabeth Porter Bowman, 78, of Northbrook, Illinois died peacefully January 9, 2016, surrounded by her children. Betsy was an elementary school teacher and later a tutor, but her passion and focus was being a dedicated and involved mother and grandmother. She was a woman of loyalty, integrity, opinion, curiosity and intelligence. A lifelong fan of the Cubs, Blackhawks and Bears (except Jay Cutler).
An obituary is typically a great way to remember someone's life and legacy and, apparently, Bowman wanted to make sure that she took one last parting shot at Cutler on her way out the door.
Cutler is typically pretty good at brushing off criticism, but, even so, I've gotta imagine that this one stings a little bit. I mean, you kind of have to question where you went wrong when people are going out of their way to curse your name even in the afterlife.
(Via Chicago Tribune)