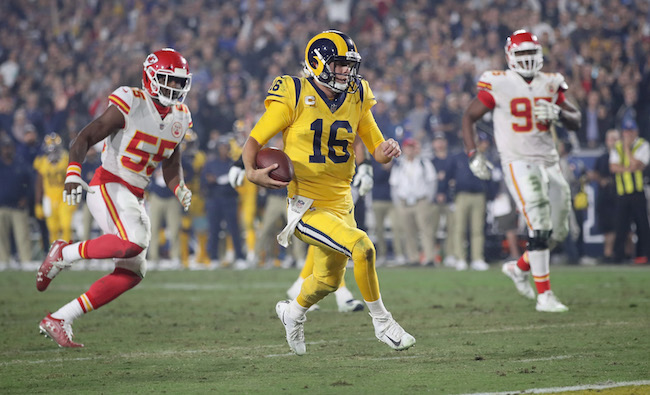 The Rams and Chiefs met in Los Angeles for the most anticipated game of the NFL season, featuring two of the league's best offenses in what was expected to be a shootout on Monday Night Football.
Somehow, the game managed to exceed the massive hype around the game, as the two teams made NFL history by being the first game where both teams scored 50 points in the third highest scoring game in league history as the Rams came out on top, 54-51.
The two quarterbacks, Jared Goff and Patrick Mahomes, combined for over 800 yards and 10 touchdowns (and a rushing TD from Goff), and, amazingly, neither team rushed for 100 yards in the shootout.

The game, as a whole, was insane, but we'll pick it up in the fourth quarter because, well, 35 points were scored in the final period. The first of those came from Mahomes and Tyreek Hill, who connected on a 73-yard bomb early in the quarter to pull within a score of the Rams at 40-37.
In a game that featured more than 100 points, there was still defense being played as the Chiefs went back in front on a strip-sack of Goff that got plucked out of the air and walked into the end zone.
The Rams quickly got back into the red zone with a bomb to Robert Woods, and capped it off with a touchdown pass to Gerald Everett to retake the lead.

The Chiefs answered back with a touchdown march of their own to take a 51-47 lead, but with three minutes left on the clock there was plenty of time for Goff and the Rams to retake the lead.
Sure enough, Goff found Everett again down the sidelines for a 40-yard touchdown right after the two-minute warning — again, leaving a lot of time for Mahomes.
Stunningly, the Rams victory was sealed by two late interceptions of Mahomes — his second and third of the game — and an unbelievable 68-yard punt from the GOAT Johnny Hekker that, for some reason, Tyreek Hill fielded going backwards into the end zone, flipping the field and putting the Chiefs inside their 15 with 50 seconds to play.
If this was a preview of the Super Bowl in Atlanta, it figures to be one of the most exciting and anticipated Super Bowls ever. The Saints obviously have something to say about that in the NFC and the Chiefs have plenty of AFC competition, but we can hope for the rematch in February.