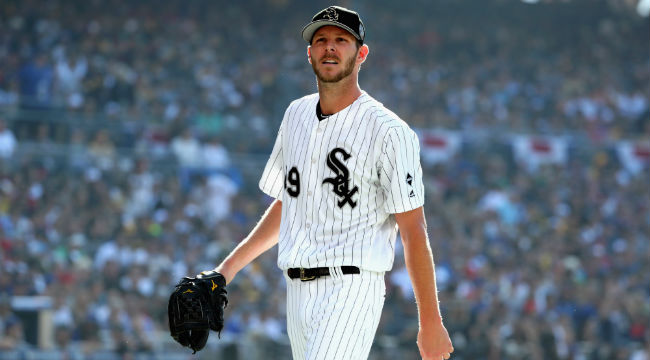 White Sox ace Chris Sale got scratched from his start and sent home on Saturday afternoon for cutting up a bunch of throwback uniforms that he didn't want to wear. Now, it looks like he'll be staying away from the team a little longer, and it won't be his decision.
The team announced on Sunday afternoon that Sale has been suspended for five days after "concluding the club's investigation into a clubhouse incident prior to Saturday's game with the Detroit Tigers." The statement, released prior to the resumption of Saturday's game, is pretty cut and dried. Thanks, I'll be here all week. Try the veal.
For Sale, rumored of late to be on the trading block, this marks his second run-in with management of the season. He was a vocal critic of the organization's decision in spring training to forbid now-retired first baseman Adam LaRoche's son in the clubhouse. Whether or not this latest incident affects his value on the market remains to be seen – the White Sox had been asking for the moon in exchange for the left-hander, which makes sense, because he is one of the best pitchers on earth and he's only 27.
Sale is 14-3 with a 3.18 ERA and a 1.01 WHIP and has struck out 129 batters in 133 innings pitched this season. The MLB trade deadline is on August 1, so we'll find out soon whether Sale's clashes with Chicago's front office leads to him getting shipped elsewhere.