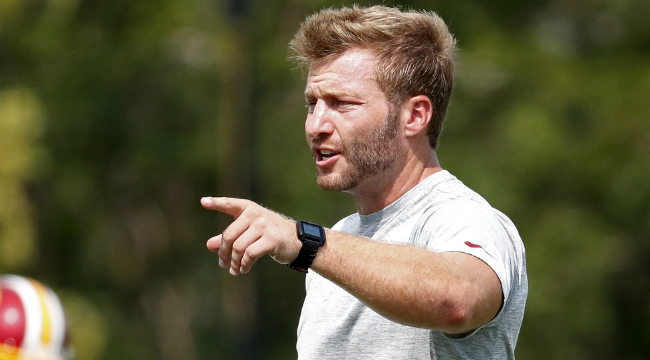 The Hue Jackson era is (mercifully) over with the Cleveland Browns, even with the caveat that eight games remain in the 2018 season. While the Browns could theoretically mount a late surge this year, everything should be viewed through a future-facing lens in Cleveland and that means plenty of speculation as to who the organization will hire to succeed Jackson on a full-time basis.
With that in mind, the good folks at BetOnline.ag released odds almost immediately after the Jackson news broke and, in an astounding and rather inexplicable twist, Rams head coach Sean McVay topped the initial list.

The odds were swiftly adjusted as BOL seemingly realized how absurd that was, moving McVay down to +750 (which is still too high).
McVay currently leads an undefeated Rams team that happens to be the favorite to win this year's Super Bowl, making it very strange that the oddsmakers would see him as even a possibility, much less a potential frontrunner. Crazier things have happened in theory but, even if McVay wanted to be in Cleveland, the Rams would have to be enticed in a massive way to allow him to walk, even if the Browns were offering top-tier compensation.
In contrast, it is not a surprise to see Oklahoma's Lincoln Riley on a list like this, as he is perhaps the hottest coaching candidate at either the college or pro level. Riley does have an exceptionally strong job already in Norman but, if he wants a bigger challenge, the NFL may come calling and he also coached Browns quarterback Baker Mayfield at the college level. Zac Taylor is now the favorite, as he's on McVay's staff as the Rams' quarterbacks coach and is considered one of the league's brightest young offensive minds.
Down the list, Jim Harbaugh is a name that always seems to appear on NFL lists and his 2018 campaign is going well at Michigan. Finally, Bill Belichick and the Browns will always be linked in some form or fashion, so if you want to light your money on fire, he is available at 20-1.
The Browns probably won't hire a full-time head coach for a while and odds may shift as a result but there is plenty of time to fire away if you see value on the board.