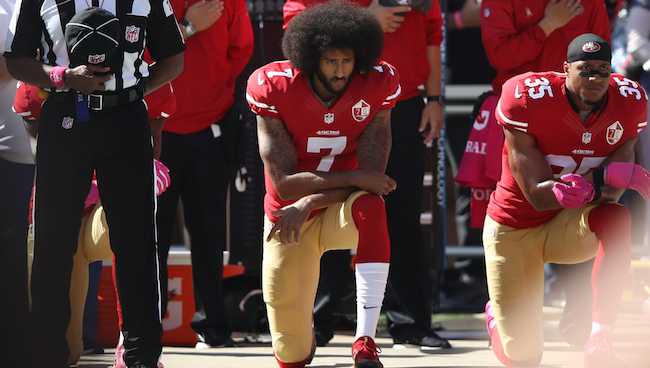 Colin Kaepernick, who is set to become a free agent this offseason when he opts out of his contract with the 49ers, will reportedly no longer kneel during the National Anthem prior to NFL games.
According to ESPN's Adam Schefter, Kaepernick will stand during the anthem next season because he believes the message has been delivered and there has been positive change in the conversation about social inequality in America.
Kaepernick no longer wants his method of protest to detract from the positive change he believes has been created, sources told ESPN. He also said the amount of national discussion on social inequality — as well as support from other athletes nationwide, including NFL and NBA players — affirmed the message he was trying to deliver.
Kaepernick's protests throughout last season sparked intense national debates about the anthem and whether taking a knee is an appropriate way to protest injustices in the country. There were those that supported him and those that demonized him, but apparently Kaepernick believes his message was received.
The kneeling received most of the attention, but Kaepernick put his money where his mouth (knee?) was by donating $1 million to fight social inequality, spread out to various organizations, and that donation was matched by the 49ers organization. Kaepernick was a divisive topic during the season and some NFL executives said they didn't want him near their organization, so we'll have to see how much interest he gets in his upcoming free agency.