It's always so hard to gauge teams this early in the season. Most of the top teams play those "roster" games, as Lou Holtz likes to put it, so you see these nice 69-3 scores over the Furmans and the Alcorn States of the world. You learn absolutely nothing you didn't previously know. (Yes, Nick Chubb is good. No, Baylor's offense won't slow down that much without Bryce Petty. Well, of course Ole Miss is athletic.)
This gets us nowhere. Even the games against ranked teams (or, at least a ranked team vs. a respectable team) can't do us much good in Week 1. It confirms some sort of bias in a lot of ways, or there's an overcorrection of sorts. I'm still a little shocked Texas A&M didn't vault all the way up to No. 8 in the polls after dispatching Arizona State.
But we have to rank somebody, or just say "all teams are good," and while the latter is definitely a thing I'm more interested in doing, that's not going to get me paid or get you riled up to tell me I don't deserve my job in the comments. And where's the fun in that?
This is the first-ever edition of the "Your Bias" Uproxx College Football Power Rankings. There will be one of these each week. I rank teams for a lot of reasons, and just because I rank someone 18th when they're 12th in both polls doesn't mean I hate your team. I actually probably love your team and don't want to get my heart broken again, so I'm tempering expectations.
1. Ohio State  (1-0)
Last game: Beat Virginia Tech, 42-24
Next up: Saturday vs. Hawaii
Knowing what I know right now, which isn't much, the only team that is going to beat Ohio State is Ohio State, at least until the latter stages of the season. And I say that for a couple reasons. A.) That schedule isn't going to get any tougher any time soon. The Virginia Tech game was the biggest land mine until arguably November. 2.) Urban Meyer has so many playmakers on both sides of the ball the only worry is this team starts to believe how good they really are and starts to stop playing as hard. And D.) There's a chance Meyer has too many toys to play with and can't settle himself down like an overexcited kid on Christmas. The constant switching between Cardale Jones and J.T. Barrett and Braxton Miller and Ezekiel Elliott taking direct snaps in the backfield and HEY LOOK A PUPPY had even the most ADD-addled person spinning, so I can't imagine what it does to college kids. (This is by far the longest of the 25 blurbs, I promise.)
2. Alabama  (1-0)
Last game: Beat Wisconsin, 35-17
Next up: Saturday vs. Middle Tennessee State
Maybe, just maybe, the Tide found their quarterback. Even if Jake Coker doesn't last, Cooper Bateman showed some promise, too. Nick Saban is never actually happy about his team's performance, but even he couldn't resist a tiny smirk when asked about the game in the sideline interview on ESPN. And for Saban, a tiny smirk and his patented "We still have to work on some things" is akin to Hank Hill telling Bobby he loves him. It doesn't happen much, goddangit, but it warms the soul.
3. Michigan State (1-0)
Last game: Beat Western Michigan, 37-24
Next up: Saturday vs. Oregon
Going into Kalamazoo and playing a precocious Western Michigan team all hopped up on sour straws and Jolt Cola wasn't easy for the Spartans, and yes, the Boats Were Rowed at times. But outside of some really good play by Corey Davis and that kick return touchdown by Darius Phillips, Sparty's defense was as good as advertised. Western Michigan averaged 0.8 yards per carry, a number that makes even 2014 Wake Forest blush. If Michigan State can beat Oregon on Saturday, they'll deserve this ranking anyway, and if they don't, I'll drop them down. See how this works, now?
4. UCLA  (1-0)
Last game: Beat Virginia, 34-16
Next up: Saturday at UNLV
Maybe I'm just buying too much into the Josh Rosen hype, and the Eddie Vanderdoes injury really hurts that defense, but there's something about this Bruins team that feels different than other Bruins teams. There is talent across the board, and that offense is so "Set It And Forget It" for the freshman quarterback that it deserves its own 3 a.m. infomercial. UCLA impressed me a lot on Saturday, more so than a lot of the other teams trying to vie for top ten spots.
5. TCU  (1-0)
Last game: Beat Minnesota, 23-17
Next up: Saturday vs. Stephen F. Austin
I'm not putting too much stock in the dud TCU played on Thursday night. It was Thursday, Minnesota is a better team than people probably give them credit for, and it was the first week of the season. The big thing is the Horned Frogs came away with the win despite sleepwalking through the game entirely. It's very well possible TCU flames out early in the season and can't handle the hype, much like that UCLA team from a year ago, but they deserve the benefit of the doubt for now. There's a reason Trevone Boykin and the rest of the Frogs got all the hype to begin with.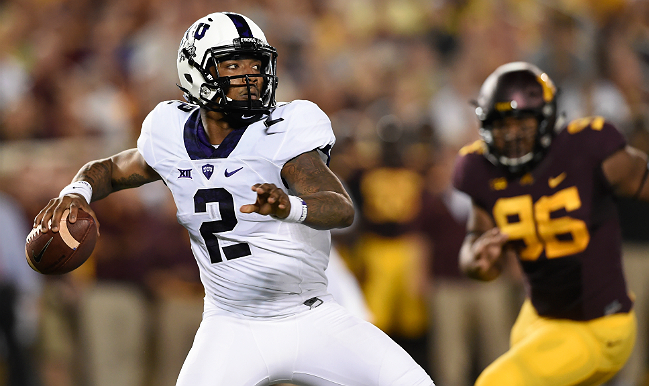 6. Baylor (1-0)
Last game: Beat SMU, 56-21
Next up: Saturday vs. Lamar
Mostly, I just like seeing TCU and Baylor back-to-back again and get comfort in it because that's kind of what happened for a majority of last season. I'm a fan of tradition, and I hate change. When I move (and I move often), I get so much anxiety over packing that I freeze. I obsess over all the little things that will be different, and I lose sight of what's important. I'm working hard to not be that way anymore, but it takes time. For now, this is where these two teams belong.
7. Georgia  (1-0)
Last game: Beat Louisiana-Monroe, 51-14
Next up: Saturday at Vanderbilt
Nick Chubb is an absolute monster. And the Dawgs get an extra bump in the rankings thanks to this:
8. Notre Dame (1-0)
Last game: Beat Texas, 38-3
Next up: Saturday at Virginia
You're hearing a lot more about Texas after Texas-Notre Dame than you're hearing about the Irish, and that's okay. Notre Dame would probably prefer to fly under the radar a bit this season. Tarean Folston's horrible injury aside, this is a stacked team with an advantageous schedule, and we'd be wise to keep a close eye on them, especially in the early stages of the season.
9. Georgia Tech  (1-0)
Last game: Beat Alcorn State, 69-6
Next up: Saturday vs. Tulane
It's your fault if you sleep on the Yellow Jackets again this year after their terrific season in 2014. Paul Johnson said during ACC Kickoff that it didn't matter who he put in the backfield, they'd rush for 1,000 yards, and despite that being O.G. as heck, it's also true. Very few teams are stopping this offense. But can the defense keep up enough for Georgia Tech to challenge for an ACC title this year?
10. Auburn  (1-0)
Last game: Beat Louisville, 31-24
Next up: Saturday vs. Jacksonville State
I just realized I only had two SEC teams in my top ten. If I forget to put a third in, I lose my FWAA membership and have to be temporarily exiled to an old pirate island off the coast of North Carolina. Thankfully, I remembered just in time. That was a close one.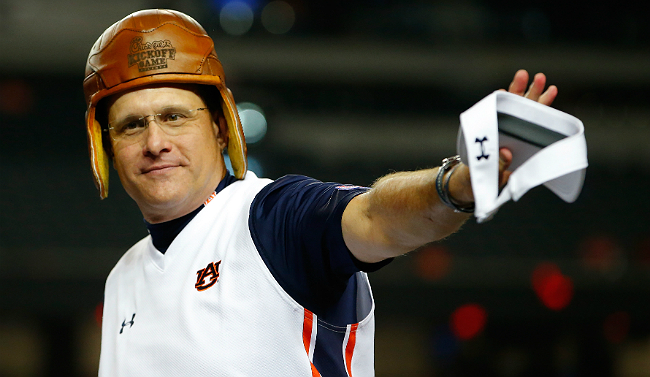 11. Florida State (1-0)
Last game: Beat Texas State, 59-16
Next up: Saturday vs. South Florida
I wouldn't fault you for forgetting about the 'Noles now that Jameis Winston is gone. Losing a Heisman winner like that tends to make that happen. But this is still a team loaded with five-stars that just so happened to get a pretty decent starter to replace Winston. While Everett Golson's time in Notre Dame didn't end swimmingly, he certainly has the ability to lead an offense. If the turnovers start popping up again like they did in South Bend, how will Florida State – and Golson – respond?
12. Oregon  (1-0)
Last game: Beat Eastern Washington, 61-42
Next up: Saturday vs. Michigan State
This defense concerns me an awful lot. [Things said about Oregon for most years in recent memory.]
13. USC  (1-0)
Last game: Beat Arkansas State, 55-6
Next up: Saturday vs. Idaho
I skipped the Trojans' game when it was on live to watch three episodes of Sex And The City on HBO Go. I am a college football expert, and I deserve your respect.
14. Ole Miss  (1-0)
Last game: Beat Tennessee Martin, 76-3
Next up: Saturday vs. Fresno State
The Rebels get some extra love from me for beating Tennessee Martin by as strong a margin as they did. If they'd beaten Tennessee Andy or Tennessee Chris by that same score, I probably wouldn't have them this high in the rankings.
15. Clemson (1-0)
Last game: Beat Wofford, 49-10
Next up: Saturday vs. Appalachian State
Mike Williams deserves to be healthy and playing football for the entire season, and I think all goal posts should be in jail. Clemson's offense should be good enough to weather the storm for the next few weeks, and it's not as if Deshaun Watson can't make plays on his own. Plus, I want to see Clemson stick around in the rankings so we get more photos like this:
16. Arkansas  (1-0)
Last game: Beat UTEP, 48-3
Next up: Saturday vs. Toledo
BERT's offense is "borderline erotic." He wasn't wrong about that. Sure, it was UTEP, but Miners are tough dudes who use pickaxes. People forget that.
17. Boise State  (1-0)
Last game: Beat Washington, 16-13
Next up: Saturday at BYU
The Broncos got a win over their former coach, and now they get BYU without Taysom Hill (after the quarterback had that disappointing season-ending injury in the win over Nebraska). Things are good for Boise State, the indie darling who just won't go away and keeps putting out hits. Basically, the Broncos are Deerhunter.
18. Oklahoma  (1-0)
Last game: Beat Akron, 41-3
Next up: Saturday at Tennessee
The test against Tennessee is a really interesting one after Oklahoma dominated the matchup last year. The Volunteers had all kinds of trouble slowing down Bowling Green's offense, and the Sooners should be able to move the ball. But Eric Striker didn't really do his team any favors when he was asked about the SEC and responded, "I don't know why people blow gas up their ass all the time."
19. Texas A&M (1-0)
Last game: Beat Arizona State, 38-17
Next up: Saturday vs. Ball State
I guess I'll rank Texas A&M. Everybody else is doing it, and I want to be cool, too.
20. Utah (1-0)
Last game: Beat Michigan, 24-17
Next up: Friday vs. Utah State
A great defense. Even better special teams. And shutting down the Jim Harbaugh Reunion Tour Khaki Van Every Play Cam Festival before it got even more out of control. Yeah, the Utes are okay in my book.
21. Missouri  (1-0)
Last game: Beat Southeast Missouri State, 34-3
Next up: Saturday at Arkansas State
Missouri is always ranked 21st. You cannot convince me otherwise. This is almost as true as Minnesota being ranked 25th in the College Football Playoff rankings when they start to come out at the end of October.
22. LSU (0-0)
Last game: Game vs. McNeese State canceled
Next up: Saturday at Mississippi State
The Tigers couldn't even beat lightning PAWWWWWLLLLLL.
23. BYU  (1-0)
Last game: Beat Nebraska, 33-28
Next up: Saturday vs. Boise State
This ranking won't last, but the Cougars deserve it after beating Nebraska in Lincoln on that awesomely cool Hail Mary. It's a shame Taysom Hill went down, again, but we did get one of the most fun moments of Week 1 when Terenn Houk hugged a ref:
24. West Virginia  (1-0)
Last game: Beat Georgia Southern, 44-0
Next up: Saturday vs. Liberty
The Mountaineers SHUT OUT Georgia Southern. That's not an easy offense to prepare for, much less hold to 224 yards of total offense. Plus, the Eagles got this stat line out of their quarterback:
Good God. Look away.
25. Temple  (1-0)
Last game: Beat Penn State, 27-10
Next up: Saturday at Cincinnati
Sure, why not? Temple brought me more joy than any other football team did in Week 1. The Owls deserve to be rewarded.
Next Five: Tennessee, Arizona State, Mississippi State, Wisconsin, Barrels of Utz Cheese Balls at a tailgate