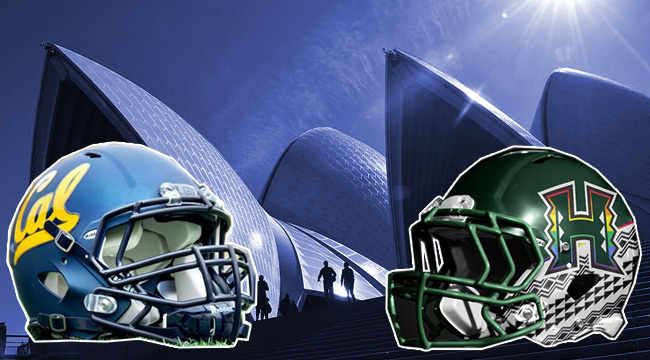 My first introduction to Australian sports came in the late autumn of 2003. I was living and toiling on the grey, cobbled streets of Prague. My downstairs neighbor was a Welshman who managed a fairly popular English pub called The Red Lion. We became fast friends and I'd often find myself huddling amongst crowds of expats at his bar, shouting and gesticulating wildly at the TVs. It was the Rugby World Cup and I was lost in a sandstorm, wandering a strange land, trying to follow a sport I couldn't savvy out.
On November 22, 2003, Australia and England faced off for the final championship game. I dragged my hungover self down to the pub for the match. Honestly, I don't remember who won. Because that wasn't what stayed with me from the experience of sitting in a pub full of Aussies and Brits swaggering and teasing and laughing over a sport being played thousands of miles away. What stayed with me were the people I met. Sports brings us together as "fans" — and, in doing so, it connects us.
Colin Scotts gets that. As the Australian ambassador for the Sydney Cup — an NCAA football game pitting Hawaii and Cal this Saturday — he embraces the power watching sports can have in our lives. The University of Hawaii Alum was the first Australian to win a football scholarship in the U.S. (the second Aussie to play in the NFL), so it's natural that he'd spearhead the effort to bring American football to Sydney.
You might think that with Aussie Rules Football, Rugby League and Rugby Union all already thriving Down Under, there wouldn't be much room for American pigskin. But the crowd for Saturday's opening game at Sydney's AZN Stadium (it'll be on Friday at 10 p.m. ET in the U.S.) is expected to exceed 65,000. American football seems to be taking off a bit around the world, and Australia is no exception.
We spoke to Scotts about the game, his love of sport, and how football can build a bridge between cultures:
I'm so excited that you're bringing the game down there. What are you looking for? What are you hoping for? What have you felt, so far? Is there a lot of excitement? Is there a lot of buzz?
It is, number one, the first division one game of the season. I just talked to a couple of Americans last week, I didn't realize how big it is to have the first NCAA division one football game. Thirty million Americans watched the first game last year. We've never heard marching bands in Australia. There's a lot more soul to it, a lot more fun. Honestly, bringing the best cheerleaders in the world — the athleticism just of them alone. We've got four or five thousand Americans coming down. It's the food too! We've got the two-foot-long hot dogs. We've got the buffalo wings. We've got the California burger. We're in one of the greatest stadiums in the world, so everybody's fired up about having a new experience at the highest level.
And you know, it's not a preseason, it's not a trial, this is the real deal.

What made you want to bring American Football to Sydney?
Quite simply, there has been an eruption in the last five to ten years — Nintendo, watching Fox Sports, and social media have absolutely captivated the imagination of Australians. We're absolutely eating and breathing NBA, NFL, you name it. We've just fallen in love with American culture and American sports. And the world has shrunk. We really believe with the wave of interest in Gridiron, we can put on a great show. Starting with a college game and hopefully make it into an annual event, or at least bring the NFL down. It's exciting.
The first thing I noticed is that everyone down there calls it Gridiron. Is that because you guys already have enough football to sort through? You have Rugby League, you've got AFL, and now this is kind of this new entry —
We do call it Gridiron. We've got four football codes. It's amazing. It has to differentiate because soccer likes to call themselves football, and then Rugby League and Rugby Union, they all call themselves football, or footy. So it probably gets a bit confusing with four different codes. At least it differentiates it from calling it football again!
I think it's pretty easy for Aussies to go, 'Well, I see how this game is different,' and in a way, that's kind of fun as a fan, right?
Absolutely. They're understanding the game better than ever, and that's important. Australians are getting better educated and if you understand the theory and the rhythm of the game, you'll fall in love with it. It is the most intense, complex, explosive game in the world and unless you know what's going on, it's very intimidating and people will be put off.

What sort of reaction are American footballers getting in Australia these days?
I owned a pub a few years ago, and after the Dallas Cowboys won the Super Bowl, Daryl "The Moose" Johnston, Mark Stepnoski, Mark Tuinei were going around and having a glass, but no one knew who they were. They're in my pub one night and they're drinking, and this old Australian guy walks up to them and he goes, "Hey, how are you, man? I hear you're the Cowboys from America." The three of them look at me like, 'Oh, thank god someone knows who we are.' And the Australian, in an honest voice, goes, "What bloody horses do you Cowboys ride anyway?" I looked over and said, "Welcome to Australia, boys."
They must love that considering how much people recognize them over here.
Yeah, exactly, mate. They had a great time and it was great to have them down here. You know, I know what it's like to be an Australian in America. I had the most wonderful twenty years of my life in the United States. From Hawaii to California to Texas to Florida to Nashville and I enjoyed every minute of it. It's a great nation. No one knows how to put on a show like the Americans, or celebrate occasions like Americans. You have it down to an art.

I tell you, especially with how much America is focused on politics right now, it's such a nice relief to hear someone who's excited about America.
Absolutely, man, and as we should be. It's the greatest nation in the world. The way that you guys treated me with hospitality and love. When there's a Fourth of July or Halloween, you guys celebrate it like no nation in the world. You're go-getters. You thrive. When someone's successful, you learn from it and you encourage it. Where we sort of, unfortunately, knock each other a bit. But in America, it's "go, do" attitude, and I thrive in that.
It's so exciting. One of the things I love about what you're doing is that this isn't just about bringing football to Australia. It's really about two cultures combining in a shrinking world.
Yeah, you have that right, it is a shrinking world, mate, and a lot of Australians are coming over there, but we've got an American man playing in the AFL now. It's a wonderful thing about the world shrinking.

I think something that Australians are good at, just as travelers, is going out to different places and then coming home and bringing those lessons home. The exchange that you're creating might also deepen the AFL. It might also change how people are fans of Rugby League. It has all sorts of cool implications.
Absolutely, mate. The number of times that I was over in America and an American war veteran would come up to me and say "you're Australian." I said "yeah." And he goes "Alright, let me tell you, you guys are the bravest, most positive, most reliable soldiers in the world," and it used to send shivers up my spine. Even at the darkest moment, they would prefer to have an Aussie soldier next to them because they knew they wouldn't let them down. There's a long history of connection and respect.
That's awesome. So what can our readers do to get more deeply involved in this and to support it?
I'm not going to brag about it, but we are graded as the number one city in the world [Sydney]. We've got more Americans coming here than ever. Have a look at Australia. Have a look at Sydney and what it offers, and then of course watch the game! I've been telling Americans, "the world has shrunk, we're not that far away!"
I know from the Americans that have come down here, mate, they love us because we have character. We have to be the most blessed country for beauty, and rugged outback, but it's the people and the character, and then our love of America! It's unique in the world. And I would encourage Americans to come to Australia because you're going to love the people and that's a big part in this world of insecurity and fear. It's nice to come down here and be loved and have a good laugh.
You can watch Hawaii Rainbow Warriors go head to head with the California Golden Bears at 10 p.m. ET on Friday night (Aug. 26) on ESPN.