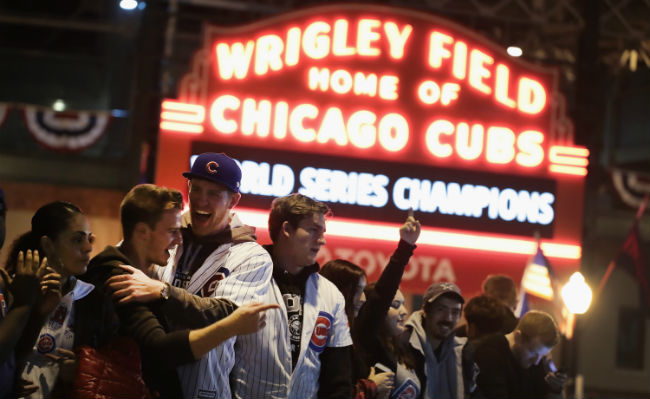 Winning a World Series title for the first time since 1908 means there's a lot of baggage to sort through when it finally happens. For the city of Chicago and the Cubs, Wednesday night's Game 7 win brought with it a number of special moments.
Bars in Chicago were filled to the brim, with people watching outside or even though apartment windows so they could be on the street to celebrate right away. They even gathered around Wrigley Field throughout the game, waiting for the win so many in the Windy City hoped would come before they left this Earth. Here's what it looked like outside after the final out:
For many longtime Cubs fans it was a moment they dreamed about but couldn't possibly imagine: a mix of old and new. The thousands of fans gathered outside waited for the famous sign outside the ballpark to say "CUBS WIN" while they tracked the game not on television or even the radio, but through their smartphones.
Cubs manager Joe Maddon also had a touching moment of his own after the dramatic victory.
https://www.instagram.com/p/BMWHCL9j6qZ/
Maddon said he put his dad's old Anaheim Angels cap in his back pocket in the 10th inning. In an interview with ESPN after the game, an emotional Maddon took it out and put it on to celebrate on the field. After Game 6, Maddon told reporters he takes his father's hat with him everywhere he goes.
"He passed away in 2002, we won the World Series, and I've had his old Angel hat in my bag since then. So it goes everywhere. So the one thing I'm relying on today is my dad. I held onto his hat a little bit this morning, and that's probably the omen, in a sense, going into this game."
Loved ones gone but not forgotten is a common thread for a team winning its first pennant in more than a century. This next tweet and story about a man driving from North Carolina to Indiana to listen to the Cubs next to his father's grave is, well, I'm going to need a moment here.
Many fans took to Wrigleyville to write the names of loved ones who died before the Cubs could win it all in chalk on the walls of the ballpark.
Being forced to drink a 32-year-old Coors to celebrate a World Series win might sound like a cruel hazing incident at a Chicago frat house, but it was one of the many touching moments for longtime Cubs fans who believed that they would one day see their team win it all.
I love everything about this video, including the small bear perched over the man's shoulders for most of the filming and the fact that (spoilers) he didn't drink it. If the Cubs didn't kill him, he's not going down on some skunky beer.
The large number of Celebrity Cubs fans had some fun celebrating the title as well. First, there's the utter joy of fellow celebrity Cubs fan Bill Murray, who seemed to really enjoy himself over the last week. Bob Newhart has also had some fun with the W flag, one of the coolest traditions in sports. His grandchildren needed to make him one earlier in the postseason, but he was ready for Game 7.
The Cubs themselves also released a nice montage featuring a song performed by Cubs fan and Pearl Jam frontman Eddie Vedder.
My personal favorite for best Cubs song is Cubs in Five, though it took them two games and an inning longer than he predicted to make the obscure indie song from 1995 ring true. I'm sure Mountain Goats frontman John Darnielle, who wrote about the Cubs and the song last week, didn't mind the delay.
"Why don't you love me like you used to do?" ran a song on the outgoing answering machine of the person to whom the song was anonymously directed, at whom I was very angry on that day (for reasons lost to history), but with whom I could never stay angry for long, because that's how it is when you're a fan: You keep cheering, even when the circumstances might tell a less devoted partisan to seek out fairer pastures. You play nine innings. You keep hoping.
Enjoy yourselves, Cubs fans. Sports are good sometimes.