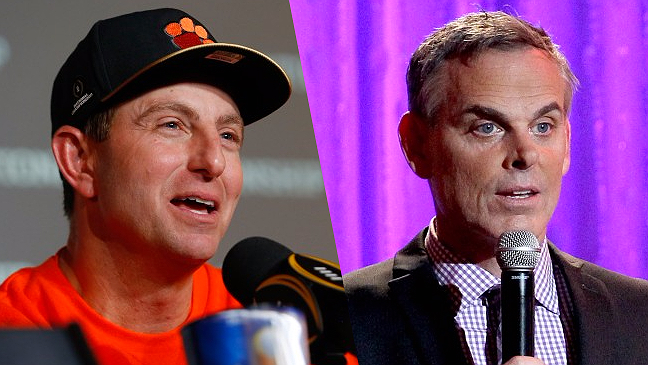 As someone who likes to shout his opinions on live television, Colin Cowherd is often proven wrong — it's the nature of the business. But because the former-ESPNer and current Fox Sports employee shouts his opinions so forcefully and often without much thought, people love to point out when he's wrong.
Case in point: Cowherd called Clemson "a fraud" back in November, Clemson won the national title on Monday night, and coach Dabo Swinney took care to call out Cowherd after the game.
"The guy that called us a fraud, ask Alabama if we're a fraud. What's his name? Colin Cowherd? I never met him, I don't know him. Ask Alabama if we're a fraud. Ask Ohio State if we're a fraud. Ask Oklahoma if we're a fraud. The only fraud is that guy, because he didn't do his homework. I hope y'all print that."
Swinney often takes moments of victory as opportunities to say "I told you so" to those who've criticized his program, as well as opportunities to dance. Although we love to see sports shouters get shamed for baseless hot takes, we'd prefer if everyone just got a long and danced instead. We hope Swinney takes a lesson from his lineman, Christian Wilkins, on that count.