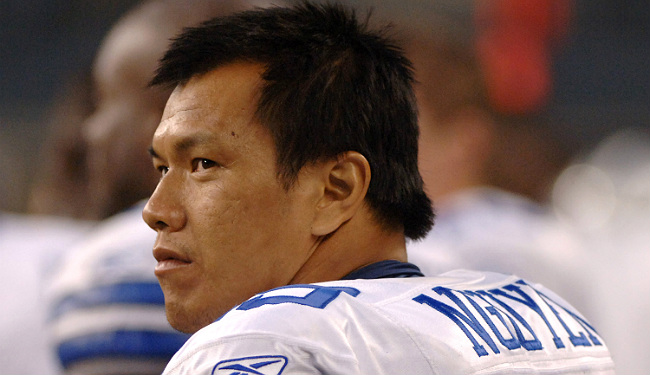 Anyone who watched Dat Nguyen play for the Cowboys knew he deserved better than the team's records over a few of those seasons. Nguyen, the first Vietnamese-American to play in the NFL, was a Lombardi and Bednarik Award-winner at Texas A&M before going in the third round of the 1999 NFL Draft.
Nguyen played parts of seven seasons in the NFL, but injuries shortened his career. He coached linebackers for both the Cowboys and the Aggies before becoming a radio host in San Antonio. Recently, Nguyen was part of a campaign by AT&T and Uber where college football legends rode around and picked up unsuspecting fans in Houston who could watch games inside the car.
Uproxx Sports caught up with Nguyen to get his thoughts on the Cowboys, Texas A&M, Johnny Manziel, and more.
You played in a rough stretch from 2000 to 2002 where the Cowboys won five games each of those seasons. Obviously that Dallas fanbase is super passionate, but what is the vibe like when the team is struggling?
Expectations are always high, especially with Jerry Jones as the owner. He wants to win more than anyone, and he's going to do everything he can. For us, we never knew going into the season we'd be 5-11. When the season starts, all 32 teams hope they have a chance to get in the playoffs or have a run to make it to the Super Bowl. But we understood there were mistakes made in free agency with spending money. We had a lot of dead money. Those 5-11 seasons were so tough. You know your window as a professional athlete doesn't last very long, and we obviously wanted to win, and couldn't win. It's hard for the players, but it's also hard on the community and the fan base.
How does that compare to when things are going well in Dallas?
That's the best thing about professional football. Especially with the Dallas Cowboys. When you win, you can feel the whole city. Everybody's on a high note on Monday, they're excited. But when you lose, there's a dark cloud over you and the whole city. The whole Dallas Metroplex area lives and dies with the Cowboys, but unfortunately when I was there, there wasn't a whole lot of winning going on.
Nobody likes winning more than Jerry Jones does, but what's something people don't know about him that they should? He's such a public figure, it feels like his personality is all out there.
There's a lot of things with Jerry. He's so passionate, but with his perception, something people don't realize is that he's very loyal. To a fault. It can sometimes hurt him, and the organization in general, when you look at things financially in the salary cap era.
One of the people Jerry's been loyal to for a long time is Jason Garrett. You actually played with him – how has he changed since he became a coach?
Jason Garrett has been around so many great coaches. Whether it was his father, who was a scout for the Cowboys, or coaching under Nick Saban [at Miami], or being around Jimmy Johnson. He knows what it takes to win, and that winning is what you have to do or you won't last. You have a vision, and you spend every day trying to get better. That's his mentality, and it's what he's trying to instill in this team. The best thing about Jason Garrett is he brings that tradition of the Cowboys. It's a privilege, it's an honor to wear that Star, and be a part of that great organization. Jerry Jones talks about it all the time. He says, "I know I'm the owner of the team, but I'm just fortunate to be part of it. I'm going to be here for awhile, and then somebody else is going to take over, but you have your moment to enjoy this time." For Jason Garrett, I think that's what he says to his players. The history is in it every day, and you are always thinking about those legendary players. Not just when you're a football player, but as a coach as well.
Michael Irvin is one of those legendary players, and a guy who has the potential to be legendary is Dez Bryant. If you had to pick one in their prime, who would you pick and why?
[Laughs.] I don't know about Dez, he and Michael are very similar in a lot of ways. But I have to go with Michael. I'm biased. I had the chance to play with him, I was a teammate of his. I know how he impacted our team, and how he impacted the league. Mike is a true friend, and he was the best teammate I ever had in my career – high school, college, or the NFL.
What is it about him that makes him so special? You hear lots of guys talking about him that way.
He's just one of those guys who has a unique ability, when you see him, even if it's been a couple years, he makes it feel like you just saw him yesterday. He has that knack of making everybody feel like he's your best friend. He is always there to talk to you. That's what's so unique about Michael Irvin. It's not just his work ethic on the field or how he played the game of football, but his impact as a human being. That's what separates him from everybody else. He makes you feel when you're with him that he has your 110 percent focus and attention on you.
That makes a difference. That's a quality you think you should be able to expect out of people, but it's so rare. 
Trust me, you try to live like that each and every day, but it's still a challenge.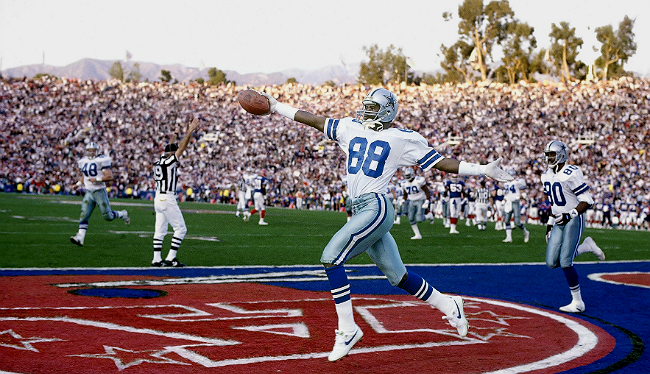 Now that you've had some time away from the team, with the Cowboys not having as much playoff success and us getting further away from those Super Bowl years, do you think Dallas is still America's Team?
I'm always going to think it's America's Team because Bob Ryan was the one who originally said that. The Cowboys, if you look at the market, when Jerry Jones first bought the team 20-plus years ago, and it was worth $150 million, and now it's worth, what? $4 billion? Whatever the number is, it's remarkable what he's done. I've never been with another organization where whenever we travel, there's so many fans that follow. Whether it's Japan, Mexico City, Indianapolis. No matter where we travel, there were thousands of fans at the hotel just to say hello, because they're a fan of the Cowboys. I don't know if they're still America's Team or not, but it signifies the Cowboys as a special team, and a unique team. You either love them or you hate them. It seems like wherever you go, there's a big, huge fan base.
Are you able to pick out a favorite memory from your time with the Cowboys?
There's a lot of them. Even when we were 5-11. The way the Jones family is, and the way they treat their players, that's something you're thankful for, and happy to experience. But if I could remember anything, it's when you would walk out on the field at the old Texas Stadium. There was a little tunnel when you walked down from the locker room, and you first walked out on the field, all of a sudden, it opens up. The first thing you see is the Ring of Honor, when you take that dip up, your head naturally pops up, and you see Bob Lilly, Tom Landry, Randy White, Roger Staubach, all the legends, all these guys that wore the same colors you did, the same uniform you did, put on the same helmet you did. If anything, that might have been the most memorable time I will cherish in my life because I was a part of something that is so rich, that has been so historical, and guys who were so impactful not just on the football field, but in the community, in society, in churches, in schools, that was felt by so many people.
What about at Texas A&M? Anything stick out from your time there?
I got a chance to play in a lot, a lot, of arenas, and stadiums, and coliseums around the country, but playing at Kyle Field, there's nothing like it. Even now, the way it's renovated, with over 105,000 people now. It's one of the most unique places to play because the student body stands up the whole game. Anytime you get tired, and you feel like you don't have the legs to push through, you just glance up there, and the kids are up there, 110 degrees outside in the middle of September, and they're cheering for you and rooting for you. There's nothing better than that.
Is there any part of you that wishes Texas A&M hadn't moved to the SEC?
No, no, no. At first, you questioned the move, sure, but when you look at Alabama, Ole Miss, Mississippi State, the towns associated with those schools – Tuscaloosa, Oxford, Starkville – all those towns remind you of College Station. Texas A&M fits all those universities. It's a small town out of nowhere. It fits exactly what the SEC is all about. No regrets in that. I was in the Southwest Conference, too, now. All those schools that were there before it was even the Big 12. The landscape is always changing. It's all part of realignment.
If anything, I just wish that Texas-Texas A&M rivalry would come back at least.
I think everybody does. Even Texas Longhorns fans would admit that. It'll come back soon. When you look at the SEC West, you play Alabama, Auburn, LSU every year, and that scheduling is already so hard, adding a rivalry game against Texas almost seems like too much. But Florida plays Florida State every year.
Texas A&M has been struggling a little bit trying to keep order with that quarterback situation. What would you be telling the guys if you were in that locker room right now?
I don't know what I would do. You never know what's going on when you see it from afar, whether you're a mile away or a thousand miles away. When you have two or three good quarterbacks, it's a good option to have. I don't know Kyle Allen's status or if he's injured at all, but I think both of those guys are capable of leading this team. Overall you just want A&M to be in a position – and they are in that position – to get to 9-3 or close to it, that's not bad. This team is still a year away. The defense is improving under John Chavis. They're playing so much better. They're flying around. They've got Myles Garrett. The one question mark that concerns me is the depth at the defensive line position, and the linebackers. They don't have the dynamic young players yet, and they are a year or two away from having that. Regardless of whether it's Kyle Allen or Kyler Murray at quarterback.
Am I wrong in thinking Myles Garrett is the most dynamic, explosive defensive player in college football?
No. You know what's funny, I had a chance to be with DeMarcus Ware, as a player and as a coach when I was with the Cowboys, and when I left the Cowboys to be with A&M, I ran into a guy named Von Miller, and it is so scary – when I look at Myles Garrett, I see DeMarcus Ware's athletic ability, and I see Von Miller's first step and quickness and agility. A mixture of those two guys in one, that's scary.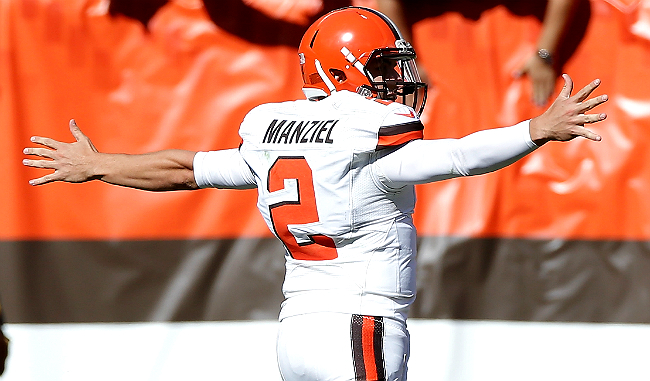 Another guy who was a star with the Aggies was Johnny Manziel, and everybody's said plenty about him, but do you think he ultimately will be successful in the NFL?
I think so. I really do. I really like Johnny Manziel, and not just because of what he did for Texas A&M, but it's all about being in the right position. For him, it's an adjustment. I go back and look at all the players in his situation. When you go back and look at Steve Young. He was drafted out of BYU, he went to the USFL for a little bit, and all of a sudden Bill Walsh told him to come and be a backup for Joe Montana. He ended up having a Hall of Fame career there. I'm not saying Johnny Manziel needs a new city, or he'll be a Hall of Famer, but he is having those sorts of obstacles. He knows the game of football, and I think he'll work, and when he gets the right supporting cast, he'll be fine. I know it's a small sample size with Manziel, and when you look at RG3, and Kaepernick, and those other spread quarterbacks who aren't succeeding, you naturally want to put Manziel in that category. But he has the ability. People forget he's very accurate as a passer. If you're accurate, or above average with your accuracy, you're going to have a chance. The other stuff will come. The game will slow down. Hopefully he'll get that opportunity.
It's hard for a guy who has all that athleticism – to go with that accuracy – you don't need to read defenses, and you trust that your ability will bail you out at times. That adjustment, you can tell guys, but until they actually see it, they need that wakeup call.
It's funny with Steve Young, he tells this story all the time. It was second and 12, and on the play, Steve Young dropped back, and he took off and ran for a first down. He was so excited. And Bill Walsh took a timeout. He's like, "Man, why'd you call a timeout? We got a first down." And Walsh said he had to go through the progression. If you go through it all, then you can tuck it and run. If you're quick enough, you can drop down and pick up yards. But you don't have to do that. You have to trust the play. Walsh basically asked him, "Do you want to play in this league or not?" He learned the hard way.
What's the most gratifying thing about being a radio host in your experience so far?
For me, the experience of sharing my life as a high school, college, and NFL player, as well as a college and NFL coach, telling stories or giving fans another angle. Fans always love to Monday Morning Quarterback, man. It's easy. But there are things that happen, and things going on that fans don't see, and I try to teach them about the game of football, of situations, time management, personnel, and everything else that comes up – like recruiting – I just want to share as much as I can. And I try to tell you what I see. I'm not going to sugarcoat anything as a fan of the Aggies or the Cowboys, but I'm not a fan on the radio.
Is there a general sense that progress is being made in the league when it comes to head injuries and concussions? Is this a fixable problem?
You know, I tried to remove my name from that lawsuit. I had a lot of concussions, somewhere around 20 or so, but right now, I don't have any issues. I went through the NFL, and I was worried about it, but I had no swelling or bruises on my brain. They didn't find anything wrong with me. I didn't feel like it was right to be on that lawsuit if something wasn't wrong with me. If they asked me to play again, I'd play again. If you asked 100 guys, 99 guys of them would say of course they'd play again. There's a consequence to playing the game of football, but injuries do happen. I do hope that the NFL is cautious, and there's still a lot of uncertainties in trying to figure out what causes CTE and all that stuff. There's more concussions that happen in soccer than football. I don't know what to think of it, but I was on the lawsuit, and I tried to remove my name a couple times, and I'm still in the process of trying to remove my name. Being cautious is huge. Player safety is the number one priority. But you're telling me when somebody gets hit and gets blindsided, that it doesn't get you pumped up for the game of football? You don't want somebody to get hurt, but that's the game of football.
I know you did that ridealong with Uber and AT&T. [Jerome Bettis also did a ridealong that same weekend] What was the experience like?
It was a great experience, even though there was rain. I thought it was one of the neatest things I've ever been a part of. The most memorable moment of that was the reaction of the fans. Getting in a car, and there's a Dallas Cowboys fan. There's that reaction – there was an A&M lady we picked up, and she comes out wearing the rain boots, and the hat, and is decked out in A&M gear. Interacting with the fans was unbelievable, and on top of that, I didn't miss any of the game because I was able to watch it in the car. We had it everywhere we went. I have to get that for my car, too. But having a driver, and just watching football from the backseat, man I could get used to that.
Now Watch: What Really Happened In Football's Greatest Comeback?