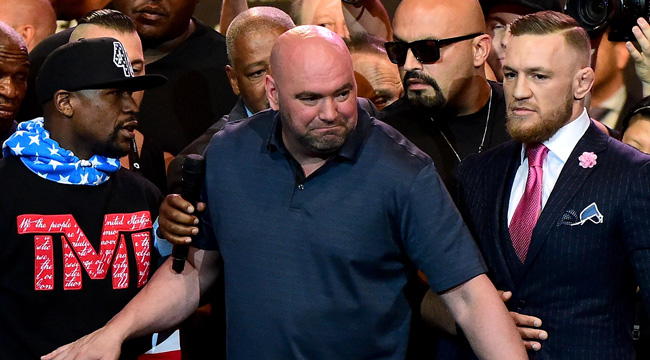 Dana White is on a media tour leading up to UFC 219 on December 30th, headlined by Cris Cyborg vs. Holly Holm. But of course, everyone wants to ask him when Conor McGregor is coming back instead. The magic 8-ball answer to that? Ask again later.
"Let's get through the holidays and hopefully he starts to get the itch to come back and hopefully we can get him back this summer," White said on ESPN's SportsCenter. "Money is always a factor but we've never had a problem getting a deal done with Conor McGregor. I don't see that being a problem. The question is does he want to come back and do it? No matter how much money you make, I always feel like with certain people you can only go on so many vacations, there's only so much stuff you can buy and then you're ready to get back to the grind, hopefully."
White reiterated his longstanding opinion that McGregor should face interim lightweight champion Tony Ferguson next, but that may not be all that interesting to the Irish champ with bigger money fights like the Diaz trilogy or a Georges St-Pierre superfight available if he wants them. There's even the possibility of another fight with Floyd Mayweather, and heaven only knows if it happens in the cage or ring.
"I have a meeting with those guys today, with his crew," White said on FOX Sports 1. "He had come out earlier and said that, so people were asking me about it and I said don't count anything out on him coming over to the UFC, that anything is possible. You guys know I was here, I did not believe McGregor-Mayweather would happen and it did, so anything is possible."
White admitted on The Herd that it might not even take Mayweather coming over to the UFC for a rematch to happen. In the past, McGregor has said he thinks better cardio would result in a win if they rematch and it sounds like that thought is still very much on Conor's mind.
"I was very happy with Conor's performance, I thought he looked great," White said. "You're fighting Floyd Mayweather, you did it really, really well. I gave him the first four rounds. He's unhappy with his performance and felt like he wasn't in the proper shape, if he could have gone more rounds…. But that fight's always there, that fight's always going to be there for those two if they want to do it again."
"I don't think anybody at this table believes Floyd Mayweather is really retired," he said later. "Floyd goes through money. He will fight again."
But as far as what White wants to see?
"Conor needs to get back to mixed martial arts," he said. "And I think Floyd has some opportunities out there."