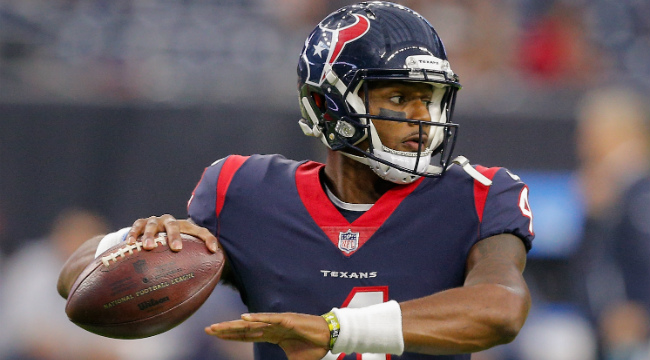 One of the NFL's most electrifying rookies may be out for the rest of the year. Word came down on Thursday afternoon that the Houston Texans' star rookie quarterback Deshaun Watson suffered a torn ACL during practice.
Watson reportedly went down with a non-contact injury during a drill, and now, the Texans are in a position where they will start Tom Savage — who was benched for Watson during the team's Week 1 matchup — and for now will sign journeyman signal-caller Matt McGloin, who played for coach Bill O'Brien at Penn State. Watching anyone go down with a season-ending injury is brutal, but watching Watson get sidelined really stings. He was one of the league's brightest young stars and was establishing himself as one of the top quarterbacks in the NFL.
This sentiment was shared by players across the league, a number of whom took to Twitter to wish Watson well after he went down.
https://twitter.com/JJWatt/status/926209339345592321
Unsurprisingly, a number of Watson's former teammates at Clemson were devastated.
Seven games into his NFL career, Watson had thrown for 19 touchdowns and eight interceptions. He was completing 61.8 percent of his passes and threw for 1,699 yards. Included in that were three games with at least four touchdowns (including a five touchdown, zero interception performance against Kansas City). Watson was the Texans' second-leading rusher, running for 269 yards on 36 carries with a pair of scores and his 7.5 yards per carry led the team. Despite it ending in a loss, his performance against the Seahawks this past Sunday was one of the most entertaining of the season.