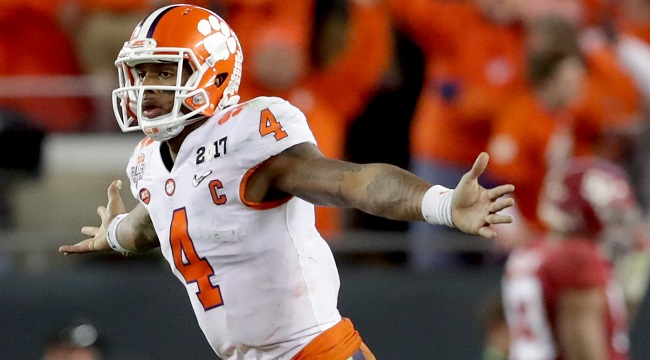 Deshaun Watson is perhaps the most interesting prospect in the 2017 NFL Draft class. Texas A&M defensive end Myles Garrett and Alabama defensive lineman Jonathan Allen are probably the best players in the class, but quarterbacks always dominate the conversation and the reigning National Championship winner fits that bill quite nicely.
In fact, Watson's college coach, Clemson's Dabo Swinney, has already compared the possibility of the Cleveland Browns passing on him at No. 1 overall to passing on Michael Jordan in the NBA world and that isn't exactly lowering expectations. Now, Mike Freeman of Bleacher Report brings word of another interesting comparison involving Watson, with off-field knowledge in the realm of future Hall of Famer Peyton Manning.
The Clemson quarterback impressed NFL types with his answers to their questions. According to one scout: "Maybe the best interview I've ever had with a guy. Quick learner. Probably knows as much about football as any other prospect I've been around, and that includes guys like Peyton Manning. He was that impressive."
Hyperbolic statements are nothing new in advance of the NFL Draft but comparing a quarterback, in terms of acumen, to Peyton Manning would constitute incredibly high praise. Watson is already known for his intangible qualities and, given the way Swinney and others rave about him, it is easy to see why. Still, this is yet another layer given the fact that Manning might be the best regular season quarterback ever to play in the NFL.
Deshaun Watson probably won't be Peyton Manning or anything approaching Peyton Manning, but that doesn't mean he can't be a quality NFL starter for a long time. Just how good he'll be, though, remains up for debate even among lofty praise for his interview work.