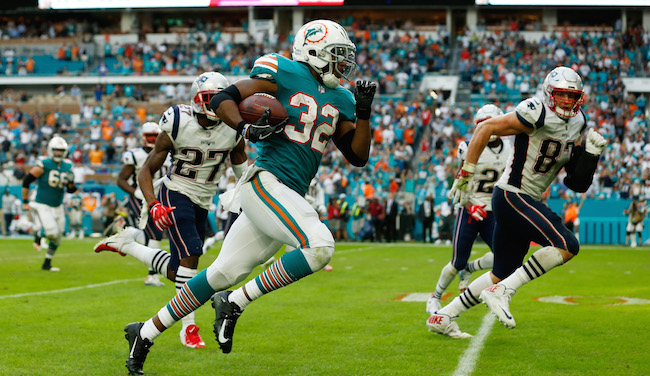 The Dolphins trailed the Patriots by five with seven seconds to play, no timeouts, and 69 yards to go, meaning a Hail Mary was out of the question for a last gasp effort.
Their only recourse was to try a wild hook and ladder play, completing a pass down field and trying multiple laterals to go through the entire Patriots defense which was in super prevent. Those plays almost never work, because it takes a perfect mix of execution, luck, and raw talent from your players to make the defense miss.
However, teams still try them because sometimes miracles happen. Like what we saw in Miami as the Dolphins pulled off the near impossible.

It's one of the most incredible plays of the year in the NFL. Ryan Tannehill hits Kenny Stills near midfield, where two pitches later the ball ends up with Kenyan Drake. Drake cuts inside and fakes like he might pitch it again, before turning on the jets and going up field where he dusted Rob Gronkowski, who was playing deep safety to protect against a Hail Mary attempt.
Gronk stumbles, because he is not a defender and not used to having to try and tee up a running back, and Drake is able to beat him to the pylon to give the Dolphins a stunning 34-33 win and keep their playoff hopes alive at 7-6.