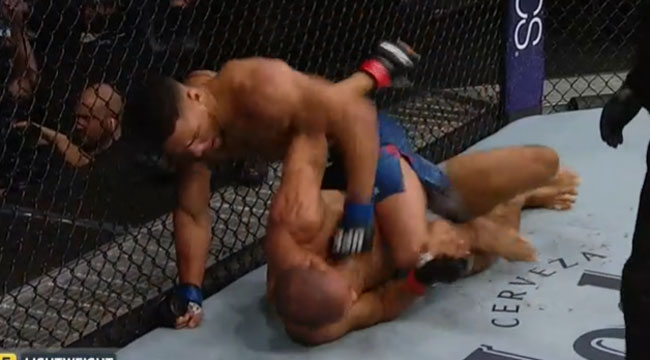 Kevin Lee showed why he's a rising star in the UFC lightweight division by absolutely dominating the very dangerous Edson Barboza at UFC Fight Night: Atlantic City. Barboza was simply unable to handle Lee's wrestling, which Lee used to set up some mean ground and pound. The majority of the fight saw Lee pinning Barboza to the canvas and unleashing with strikes, but it was an exchange on the feet in round 5 that cut Barboza's eyelid, prompting a doctor's stoppage with just over two minutes left.
The first round saw Kevin Lee come out aggressive with punches and kicks before powering Barboza into the cage and taking him down. From there he tried to recreate what Khabib Nurmagomedov did against Barboza with some heavy ground and pound, taking the mount repeatedly and raining down strikes. While Barboza survived, it would be hard to imagine anything other than a 10-8 round for Lee.
Round two was more of the same, but this time with less energy on Barboza's side. By the end of the round Lee was once again sliding into mount and attacking with endless hammerfists and chokes. A flurry of elbows to Barboza's head in the final minute of the round had the referee seriously considering a stoppage, and again it's hard to imagine a scorecard that wouldn't be 10-8.
Barboza came within an inch of victory in round three when Kevin Lee foolishly tried to hang on the feet with him and ate a spinning head kick that had him on wobbly legs like a newborn deer. But Barboza was exhausted and unable to capitalize as Lee shot in for a takedown and managed to recover as they grappled on the mat.
Round four started with a dangerous exchange of blows that saw Barboza land some dangerous kicks and wing some crazy uppercuts before Lee ditched the striking game and went back to his wrestling base, picking Barboza off the ground and slamming him to the canvas. The Atlantic City crowd was not happy, booing and chanting 'Stand them up!' to no reaction from the ref.
Round five saw Barboza continue to threaten with dangerous kicks while Lee responded with his own strikes that took a cut above Barboza's eye and ripped it into a gusher. The blood started to flow and the referee called a time out, and moments later was waving off the fight after doctors got a better look at the cut, which was right on the eyelid of Barboza.
The win redeems Kevin Lee after a loss to Tony Ferguson for the interim lightweight title at UFC 216. Lee got his licks in on Ferguson but gassed out halfway through the second round. But don't blame Lee on that point too much because he walked into the fight with a giant staph infection that was visible on his chest. Tonight in Atlantic City, he went five rounds hard against Barboza with no cardio issues at all.
With the top of the lightweight division a crowded place, it's doubtful Lee will earn another title shot off this win, but he did prove that his inclusion in the list of elites is worthwhile.