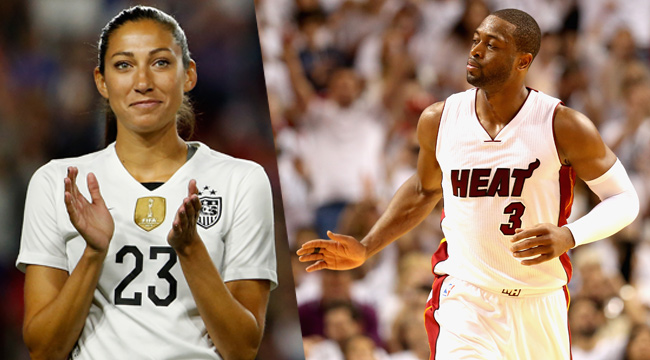 For a few years now, ESPN's Body Issue has been the refreshing rejoinder to Sports Illustrated's shameless skin-showing. Naked bodies is one of the only things that still sells magazines, but by focusing on athletes of all kinds and capturing them in something like their designed purpose is far more respectful than putting models in bikinis and calling it sports. Last year was a banner year for the issue, with stars like Bryce Harper, Odell Beckham and Brittney Griner gracing its pages, and the names that will follow it up have been released, along with this trailer:
[protected-iframe id="64ee3973179dd99190583c2a3a26912c-60970621-82693135″ info="ESPN" width="650″ height="366″]
Other than the previously-announced Conor McGregor, the new names are headlined by Dwyane Wade, arguably a bigger star than anybody featured last year. He, like many athletes before him, said he's participating to exorcise his former body-shame demons. Among the notable athletes to join him are Houston Texans defensive tackle Vince Wilfork, WNBA star Elena Della Donne, and – continuing in the tradition of the Body Issue having one member of the U.S. Women's National Soccer Team – forward Christen Press.
Two other athletes deserve to be singled out here, though. First, former Olympic diver Greg Louganis, who is now 56, will be stripping down. ESPN doesn't normally pick athletes long past when their careers end, but we imagine he's still in excellent shape, and as a water athlete, not at all unfamiliar with being exposed. The second is duathlete (running and cycling) Chris Mosier, who will be the first transgender athlete to appear on its pages. It's a significant moment in the drive to normalize and demystify transgender people to the greater American public, and since their bodies are so heavily scrutinized to begin with, it's bravery on a level not seen before in the Body Issue for Mosier to show his own body.
Here are the rest of the 19 names:
Jake Arrieta, Cubs pitcher
Antonio Brown, Steelers wide receiver
Von Miller, Broncos linebacker
Nathan Adrian, Olympic swimmer
Emma Coburn, Olympic steeplechase rider
Courtney Conlogue, surfer
Ryan Dungey, motocross rider
Adeline Gray, Olympic wrestler
Nzingha Prescod, Olympic fencer
April Ross, Olympic volleyball player
Allysa Seely, paratriathlete
Clareesa Shields, Olympic boxer